Italian Stuffed Bell Peppers are a classic American recipe and family favorite.  This is an easy-to-make and tasty dish that can be made ahead of time or at the last minute.
When selecting bell peppers chose ones that are flat on the bottom — they stand up better while cooking.
I, personally like to use colored bell peppers rather than green ones because they taste milder and sweeter. The green bell peppers have a  harsh taste because they have been harvested before they are fully ripe.  The colored bell peppers taste sweeter because they have been allowed to fully ripen.  You can find bell peppers in many colors depending on the stage of ripeness and the variety.  Next time you are at the store look for bell peppers in the produce section. You will find orange, yellow, red, purple, brown, black, ivory and green ones.
Try serving this meal with crusty sourdough bread to soak up the juices.  Adding Oven-Roasted Asparagus will result in a colorful presentation.
This delicious Italian Stuffed Bell Peppers recipe, comments, and photos were shared with me by Karen Calanchini, Food Stylist and Photographer, of Redding, CA.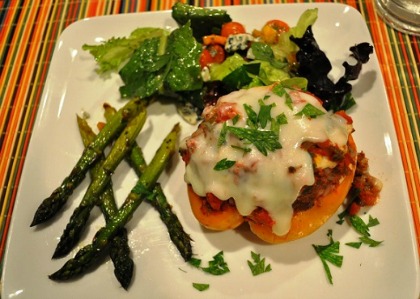 Italian Stuffed Bell Peppers Recipe:
Keyword:
Italian Stuffed Bell Peppers Recipe
Servings
:
2
to 4 servings
Ingredients
1

large

red bell pepper

1

large

orange bell pepper

1

pound

ground sirloin,

extra-lean (10% fat)

1

small

red onion,

finely diced (about 1/3 cup)

1

large

garlic

clove, finely diced

1

cup

Basmati Rice,

cooked according to directions on package*

Coarse salt

or sea salt and freshly-ground black pepper

1

heaping teaspoon

Herbs de Provence**

1

(8-ounce) can

tomato sauce

1

(14.5-ounce) can

petite cut tomatoes

in rich juice

Parsley

for seasoning and garnish, chopped

1/4

cup

dry white wine

or extra dry Vermouth

1

cup

sharp cheddar cheese,

shredded
Instructions
Preheat oven to 350 degrees F. Line a baking or casserole dish with non-stick aluminum foil.

Cut each bell pepper in half lengthwise. Remove the seeds and the white, mealy, ribs with the tip of a sharp knife; discard. If bell peppers do not sit straight in the baking or casserole dish, use a sharp knife and slice a little piece off the back of the pepper where it will sit on the dish. I simply put this sliced piece inside the pepper. You can also cover a small hole you may make when cutting the slice off.

In a large saucepan over medium-high heat, either steam or cook peppers in boiling water until crisp-tender, about 4 to 5 minutes. Your time may vary according to the size of the peppers. You want it to have just a slight crunch when you eat it. Be careful not to overcook them or they will be soggy and hard to stuff. Drain and arrange the bell peppers halves in the prepared baking or casserole dish; set aside.

In a bowl, mix together the ground sirloin, onion, garlic, 1 cup cooked Basmati Rice, salt and pepper to taste, Herbs de Provence, fresh chopped parsley to taste, and the 8-ounce can tomato sauce. Divide the meat mixture in the bell pepper halves.
Recipe Notes
* 1 cup uncooked Basmati Rice will yield about 2-1/2 cups cooked rice.  Since you only use 1 cup cooked rice in this recipe, put the rest of the cooked rice in a freezer container and freeze.  You can use this in a soup recipe or casserole, or simply reheat, add  butter, parsley, and other herb, o; spice you desire.
** Herbes de Provence is the classic French herb blend consisting of basil, bay leaf, chervil, fennel, lavender, marjoram, oregano, rosemary, sage, summer savory, tarragon, and thyme.
Comments and Reviews