Organizing Family Reunion Meals
As sure as the fact that summer brings heat – it also brings family reunions:
With the kids being out-of-school, summer is the prefect time for family gatherings, both big and small.  No matter how many people are going to attend, from 25 to 400, food is always a main activity and interest.
Planning the family reunion meals can be a bit daunting.  If you've drawn that job for your get-together, as I did for my family's gathering, you will find that being organized can make the job much easier. Here are some steps to walk you through that process.
Begin your meal planning by checking on the location and the time.  The time of day will dictate how many meals are needed.  The location will dictate what kinds of meals are appropriate for the cooking/serving facilities that are available.
Do not be afraid to include others in your planning.  A large committee can be unwieldy and more difficult than doing the work alone but a small group can be very helpful.  Consider asking people of different age groups.  The twenty-something's, fifty year-olds, and senior citizens will all have different ideas for what their peers would enjoy making and eating.  You will come to a better consensus to include everyone.
Meal Planning Ideas:
Below, you will find several different approaches to serving meals to your family.  No matter which you choose, there are some key elements in common:
Set a deadline to have your meals organized and planned.
Assign family members to do shopping, setting-up, cooking and cleaning-up.
Decide who will pay for what and how much the cost will be.
Make sure someone is in charge of the necessary non-edible items from propane to charcoal, grilling tools, paper goods, ice, cups and utensils.
Decide how to plan beverages.  Will this be no-alcohol, chip-in for drinks or B.Y.O.B?
Be sure to plan for snacks.  Even with planned meals, children and others will need a nibble.  Perhaps you can assign a family to stock a snack table so that everyone does not get into the dinner foods before dinner.
Plan a way to communicate before the reunion.  Send a newsletter or postcard about the meals, beverages, needs and costs.  Or, create a web page or send out an email to everyone attending.  You do not want anyone surprised by the cost nor do you not want to have food because someone did not get the message about what to bring.
Be sure to make a time at the reunion to thank the organizers and the cooks.  It is hard, but fun work, and they should be recognized.
Organizing Meals Ideas:

Strictly Potluck – You can go with a true potluck – everyone brings what they want and no one is assigned anything. Or, you can assign people main dishes, salads, sides and desserts.  One fun potluck theme is to have each person bring a dish that reminds them of their childhood.  Have the recipes emailed to you to print out and create a recipe book as a reunion favor.
Grilling plus Potluck -One of the most expensive items of a reunion is the meat.  You might have a potluck for the side items and dessert but ask each person to bring their own meat for the grill.  Have grills ready to go and the grilling utensils.  It creates a lot of conversation as everyone compares what they brought and how it is prepared.
Create Food Stations – Everyone loves a buffet.  Assign various family's coming to the reunion different themes.  Have each decorate and set up a table for their theme- from Mexican to Italian to Salad Bar to Sandwich Heaven.  This provides a wide variety of food to sample.  It is fun and sure to please everyone's palette.
BYOP – Bring your own picnic.  Make planning really simply by asking each family to bring a picnic supper.  Supply the paper goods and perhaps a reunion cake for everyone to join in on together.
Go Camping: -Take everyone back to their childhood by cooking over the campfire.  Hotdogs on sticks, campfire stew, and S'mores are loved by everyone.  Ask people to bring ingredients or have everyone chip in to pay for it.
Catered -Arrange for a catered picnic or meal.  Or, find a person with a rolling barbeque grill to come and prepare dinner for everyone.  This way, all the work is done by the caterer.  Summer weekends get booked fast.  The challenge is to find someone free for your event at a price you can afford so don't procrastinate.
Packing for the Reunion: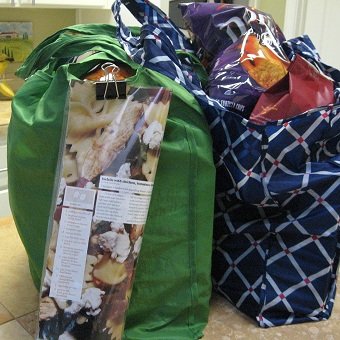 When gathering your items for the family reunion, pack in your reusable grocery totes.
When packing snacks or for several meals, use one bag for each.  Clip any recipes to the bag.
This way, you can leave everything in the car except for the bag you need at that time.
If you need to take a recipe with you, pack it with the bag of supplies.  Be sure to check off the recipe ingredients.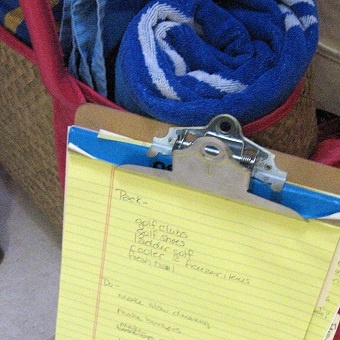 Pack a day or two before, giving you time to add forgotten items to the pile as needed.
Start a packing list for last-minute items such as the freezer and fridge foods that need to go in the cooler.
Keep a running packing list.  Add to it as needed so that you do not head off and leave the meat in the freezer.  A clipboard is a great way to keep your directiions and reunion notes in one spot.
It never hurts to grab a bag of the basics – plastic wrap, foil, paper towels, hand soap and wet wipes.  They are sure to come in handy.
---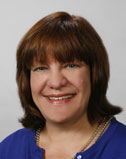 Author Lea Schneider, a columnist for What's Cooking America, is a freelance writer and organizational expert whose organizing ideas have been published in many magazines including Woman's Day, Better Homes and Gardens Kitchen and Bath Ideas, Family Circle, Parents Magazine, as well as numerous newspapers and websites.  She is a member of the Association of Food Journalists.
Getting organized is all about living simpler and making things easier.  The bonus is it often leads to saving money.  Lea Schneider's kitchen organizing columns tell you how to organize the many things that relate to kitchens, menus, meals, and special food events.
Check out all of Lea Schneider's helpful home and kitchen columns at Organizing Kitchens, Pantries, Menus and Meals.
Comments and Reviews