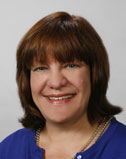 Author Lea Schneider, a columnist for What's Cooking America, is a freelance writer and organizational expert whose organizing ideas have been published in many magazines including Woman's Day, Better Homes and Gardens Kitchen and Bath Ideas, Family Circle, Parents Magazine, as well as numerous newspapers and websites. She is a member of the Association of Food Journalists.
Getting organized is all about living simpler and making things easier. The bonus is it often leads to saving money. Lea Schneider's kitchen organizing columns tell you how to organize the many things that relate to kitchens, menus, meals, and special food events.
Check out all of Lea Schneider's helpful home and kitchen columns at Organizing Kitchens, Pantries, Menus and Meals.
---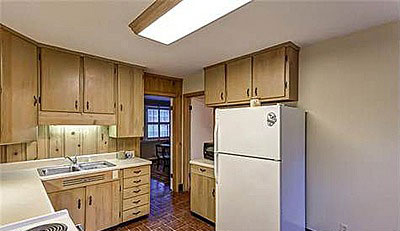 As a regular feature for What's Cooking America, I tackle things related to get your kitchen, menu, or meals organized. From dinner parties to what's in your pantry, I am always ready to dig in.
This month, I might just be looking more for sympathy than sharing tips.  I have acquired a kitchen that needs a bit of updating.  No, that is not true.  The truth is that I have acquired a kitchen that needs to start over.  I imagine that back in 1953, this was quite the modern kitchen – but not so much today.   With outdated appliances, cabinets, antiquated ventilation, no disposal, limited storage, and old laminate countertops, I wondered where in the world I start.
After doing some research, I learned that the best way to tackle a new kitchen plan is with storage and organizational issues brought to the forefront.  As a professional organizer, that was speaking my language.
It is so tempting to dig right in to the pretty picture by choosing flooring, backsplash, and countertop.  Suddenly, you are striving for a particular look.  Once you build that look, you might realize that you have made your storage options too limited your work area too small and even made a cooking flow that is impossible to live with.
Instead of beginning with a new kitchen and then figuring out where and how to store things, it is a great idea to make a list of the things you really do need to store in your kitchen and work from that list to build a kitchen that suits you.
I have just completed that exercise.  I broke down my cooking tools, appliances, and dishes into these groups: baking, plastics, entertaining, serving, dishes, casseroles, cooking tools, small appliances, spices/oils, casseroles, cooking tools, silverware, pots and pans and serviceable items such as colanders, measuring cups, mixing bowls and so on.
Do not forget some of the other important areas such as trash cans, recycling, plastic wraps, cutting boards and other odds and ends.  You might kick yourself later if you do not consider these.
You might have noticed I forgot food!  That is exactly what happened the first time around.  I was so busy thinking of all the things I store in my kitchen and cook with that I forgot to include a pantry.  That is a small mistake I might have noticed later.
Once you have roughed out an outline of your kitchen, and thought about what will go in each cabinet or pantry space, then you are ready for the pretty part.  An architect or kitchen designer can begin with your notes a build the pretty part of the plans for you.
So this month, I will be learning about how that 1950's stove works while someone does the pretty part of my plan.  I am still tickled to learn that a great kitchen begins with the organizational end of things.  If you are starting a project at your house, be sure to figure out how it will function in the end.
Stay tuned for the after pictures of my first-ever kitchen make-over.  I promise to share what I learn along the way.
Comments and Reviews