Bringing Kitchen Remodeling Dreams to Life
Conquering Cabinet Choices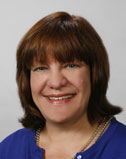 Author Lea Schneider, a columnist for What's Cooking America, is a freelance writer and organizational expert whose organizing ideas have been published in many magazines including Woman's Day, Better Homes and Gardens Kitchen and Bath Ideas, Family Circle, Parents Magazine, as well as numerous newspapers and websites.  She is a member of the Association of Food Journalists.
Getting organized is all about living simpler and making things easier.  The bonus is it often leads to saving money.  Lea Schneider's kitchen organizing columns tell you how to organize the many things that relate to kitchens, menus, meals, and special food events.
Check out all of Lea Schneider's helpful home and kitchen columns at Organizing Kitchens, Pantries, Menus and Meals.
This is the second  part of this three-part series about steps in remodeling your kitchen.  Check out the first part, about making your initial remodel decisions, at Where to Start?
Probably the least changeable feature of your kitchen is cabinetry. You can install a new floor or backsplash- but it goes around those existing cabinets. You can paint, again around the cabinets, or hang new light fixtures, but over the cabinets.
No matter if your kitchen remodel is small or large; cabinets have to be front and center in decision making. The cost of cabinets will likely weigh heavily in any remodel. According to HGTV.com, expect your cabinets to be 35 percent of the cost of any remodel.
Of course, there are options to stripping out and replacing cabinets. You could refinish or paint them, swap out existing hardware for an updated version or even have new doors made. Those options are not always viable. For example, in my last kitchen, the cabinets had laminate doors. You could not paint or refinish laminate in a way that would promise to be sturdy and lasting in a kitchen that sees lots of use.
So, if you are starting from scratch with your remodel, as I did in turning this 1953 home into a modern one, then here are a few considerations for your most expensive of purchases.
---
Choosing Kitchen Cabinets:
The three basics of kitchen cabinet decision making are looks, function, and storage.
The Look:
Choosing your kitchen cabinets sets the tone for the entire remodel.  As mentioned above, you can in a few years change a paint color or a backsplash but you will likely live with your cabinet choice for decades.  Take your time selecting a style.  Collect magazine pictures or online photos of kitchens that appeal to you.  Go back through those and examine cabinet styles to see if you can find a common thread through them. That might steer you toward a style.
Cabinet styles vary from very ornate, with lots of trim pieces on the door creating various frames, to the very simple such as Shaker style or flat front doors.  Likewise, finishes vary from very elaborate glazes to simple white.  You will not only be choosing a color but a style as well.
There are two key terms to know when looking for cabinets – standard overlay and full overlay. I n standard overlay cabinets; you are able to see an inch to two inches of frame around the edges of the smaller door.  In full overlay cabinets, the over-sized doors completely cover the frame so when you look at it, you only see door or drawer fronts.  You have to open those doors to see the frame.  Because the doors and drawers are oversized, the full overlay cabinets are more expensive.  If you are watching costs, this is important to know when shopping.  If shown a sample door, you will want to ask if this is full overlay or not.
According to Better Homes and Gardens, trending right now is light and simple.  White or lightly stained cabinets plus flat or Shaker fronts are popular.  As an organizer, I have worked in many kitchens to create order and I will tell you that the trim pieces on Shaker front cabinets hold a lot of dust, lint, pet hair, and dribbles so they require extra attention when cleaning.
Make sure to consider your flooring when choosing a cabinet.  If you have hardwoods and intend to do so in the kitchen, make sure your cabinet compliments the existing flooring.
Study the pictures of the kitchens you like to see how the tops of cabinets are finished. Do they go all the way to the ceiling?  Does some paint show at the top?  Many cabinets have crown molding added to the top to give them a finished look.  That crown molding can be small and simple or be quite large and elaborate.  Also, some kitchens have cabinets that are all the same height at the top and others stagger the height to vary the visual interest.  While your lower cabinets are always the same "counter" height, your upper cabinets can vary from 30-inches tall to 42-inches or more on custom built ones.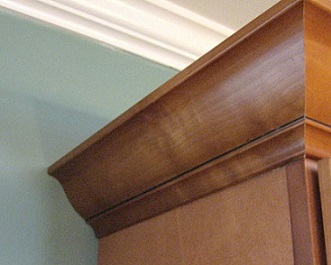 If you feel like your kitchen will be full of wood, you can lighten it up by adding some glass front doors.  Not every door needs to be glass but adding a few create interest.  If you add glass doors, you may need to budget in lights for the cabinet interiors as well as glass shelves, which are typically sold as a separate item.
The Function:
Once you have settled on a style, color, heights and moldings, it is time to move from the exterior of cabinets to the interior.  A kitchen remodel is the perfect time to solve some of the things about your existing (or even past kitchens) that drives you nuts.  A few of the things that I have wanted to avoid in planning my kitchen cabinets include: blind or corner cabinets that were impossible to use, shelves that didn't raise or lower so I could not fit in taller items and lower cabinets that were accessible only by crawling in to the back to find things.
Find out what kinds features are available in your stock or custom cabinetry. Knowing the available options, will help you make proper storage decisions. Here are some of the things you might ask about:
Corner cabinet lazy Susans or pullouts
Slide-out shelving for lower cabinets
Pull out deep drawers instead of lower cabinet shelves
Adjustable shelves (photo adjustable shelves)
Extra tall cabinets for something big, like your standing mixer, which might mean the option of a cabinet without a drawer
Built-in trash cans or recycle bins (photo trash and recycle storage)Divided drawers for utensils or tools
Wine racks
Storage:
Begin to plan your new kitchen space by looking at what you store in your old kitchen.  Open every cabinet and see what you own.  Of course, this is a great time to do a bit of organizing and declutter small appliances or other pieces you mean to use but never do.
Make a list of types of items and note how many cabinets you currently have devoted to that item.  For example, do you have two cabinets that contain things for baking?  One for drinking glasses?  Another for dishware?
Consider any items you currently have stored elsewhere in the house but wish were in the kitchen.  Do you have extra pantry items somewhere?  Perhaps extra small appliances or serving pieces are in a closet.  Add those to your list to see if you can work them into the kitchen on the remodel.
When planning your kitchen storage, keep in mind where your dishwasher will be located.  Plan on drinking glasses, every day dishes and silverware to be stored close to the dishwasher to make that chore easy.
Plan on storing other items near where they will be used.  That means locating pots and pans near the stove, bake ware near the oven, spices and cooking tools within easy reach of the stove top and so on.
Sketch out your kitchen layout and locate the most common items on it, creating a storage map.  Once the most common items are placed, then you can fill in other kitchen items into blank areas.
Helpful Hint:  I created a spreadsheet of several columns. On my kitchen "map," I assigned each cabinet a number.  That way, I could create a list of what was stored in each, such as Cabinet #1= drinking glasses. My spreadsheet columns included cabinet number, whether it was an upper or lower cabinet, items to be stored and any special need, such as if the drawer needed dividers or the lower shelves should be a pull-out.
Likewise, not all lower storage can be the same.  While deep drawers work for casserole dishes or pots and pans, they will not hold your standing mixer.  The only way to store baking pans or trays in a deep drawer or pullout shelf is by stacking them.  That means stacking and unstacking every time you need a particular one.  But, an adjustable shelf means you could raise it up and add bake ware sorter racks and stand up your trays and pans for easy use.  Do take the time to analyze what each cabinet needs.
No matter if you are figuring out your cabinets all by yourself or turning to an expert kitchen designer, you will need to take the time to figure out your storage needs.  Once you've created a storage list, it is easy to turn it over to a kitchen designer to create the exact layout for the remodel.
Next month, tune in for before and after pictures of my 1953 remodel.
Check out Part 1 of this 3-part series – check out Where to Start?
The easy part, of choosing your new kitchen is picking the beautiful items, from the wood of the cabinets to countertops, backsplashes and lighting fixtures, and that so called easy part is quite difficult.  The hardest part of your kitchen remodel is deciding what will go where.  Before you head out to look at granite or brush your hand across shiny stainless steel appliances, put pen to paper to figure out what your kitchen really needs.
Comments and Reviews