Bringing Kitchen Remodeling Dreams to Life
Where to Start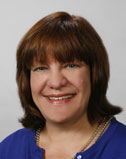 Author Lea Schneider, a columnist for What's Cooking America, is a freelance writer and organizational expert whose organizing ideas have been published in many magazines including Woman's Day, Better Homes and Gardens Kitchen and Bath Ideas, Family Circle, Parents Magazine, as well as numerous newspapers and websites.  She is a member of the Association of Food Journalists.
Getting organized is all about living simpler and making things easier.  The bonus is it often leads to saving money.  Lea Schneider's kitchen organizing columns tell you how to organize the many things that relate to kitchens, menus, meals, and special food events.
Check out all of Lea Schneider's helpful home and kitchen columns at Organizing Kitchens, Pantries, Menus and Meals.
---
Welcome to the first part of a three-part series on organizing a kitchen remodel.  If you dream of changing your kitchen, follow along on my remodel journey that is nearing completion.
One thing that I learned during my 120 days without a kitchen is that everyone has a remodel-themed story.  Changing this home's original 1953 kitchen into modern one was a story to which people related on a personal level.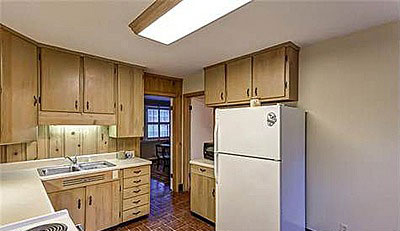 Either they desperately want a remodel and shared their own reasons why they really need to find either the time or funds to do it – or perhaps both items.  Or, they had already done one and shared their own horror stories.  Or, since I live in the South, they just patted me on the shoulder and said "Bless your heart," a very Southern term of endearment that translates into "I wouldn't want to be you."
Some people unfortunately dream of a new kitchen for years and years before it happens.  They have lots of time to plan it.  I, on the other hand, had circumstance thrust me into an old home needing new help and it needed it fast.
Remodeling Begins with Decisions:
The easy part, of choosing your new kitchen is picking the beautiful items, from the wood of the cabinets to countertops, backsplashes and lighting fixtures, and that so called easy part is quite difficult.  The hardest part of your kitchen remodel is deciding what will go where.  Before you head out to look at granite or brush your hand across shiny stainless steel appliances, put pen to paper to figure out what your kitchen really needs.
Begin with what you know about your own likes and dislikes.
For me, these included:
Sink placement:  In my previous home, the sink faced a sidewall.  It was depressing never seeing the beautiful sunny sky or the falling rain or the lovely flowers in my garden.  I really wanted my sink at the window.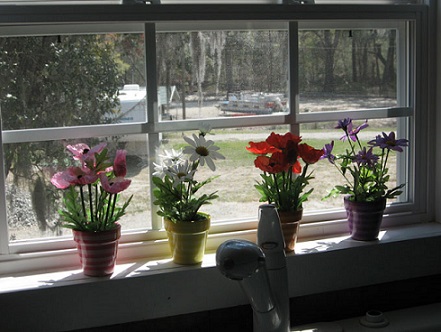 Room for appliances:  It was important to me to not have appliance roadblocks that I had experienced in other kitchens.  That means that the open dishwasher door, open oven or open refrigerator door should not block the kitchen.
An island is not a must:  I have been in kitchens where someone must have said they had to have an island.  The aisles around the island are so narrow that one person really has to get out of the way for another to pass.  That is ridiculous.  So either there was plenty of room for multiple family members to move around the kitchen together or no island at all leaving the room more open.
Double oven:  For a girl who loves to cook and plans her day around doing so, it is amazing that I have never had a home for two ovens.  Since I was starting from scratch in this old kitchen, two ovens are on my list.
Plenty of pantry room:  I try to stretch my grocery dollars by paying attention to sales.  While I am not a crazy stock hoarder, I do buy things on the buy-one-get-one sales or in bulk at a warehouse store.  That means in one home, I had to go and shop from my own basement, and in another home from shelves added to the laundry room.  In this new kitchen, I would really like to have the groceries actually in the kitchen.
Figure out beverages:  I love to have friends, family, and groups over.  The one thing I have never figured out is how to handle beverages.  I do have a spare refrigerator, which in different homes has been in the garage, the basement, a closet under the stairs, and the laundry room.  Which of these areas do you want to send a guest to when you are busy cooking and they say "Do you have any more soda?"  Seriously.  You get your home ready for company, it probably is not those areas.
Organization:  Obviously, as one who loves things to be organized, this is a given.  But, since home design has moved to open concept kitchens, this means many upper cabinets get eliminated.  It makes storage difficult.  So, choosing what goes where in the kitchen also means considering storage options.
Remember the triangle:  I do not want to walk a mile to prepare a meal.  Therefore the sink, stove and refrigerator need to be placed so that they are easily accessed in what is known as the kitchen triangle.
Use your likes and dislikes as a starting point to create a checklist of needs that you can use to plan your kitchen.  Here is my list of must-haves.
Sink under the window.
Sink, refrigerator, and cook top create a work triangle that isn't too far apart.
Leave enough room for appliances to open and there be room to walk
Double oven
Pantry room for everyday foods plus bulk purchases
Beverage refrigerator
Enough cabinet storage to be organized
Once you have created your must-have list, begin to look at design concepts.  Pull pages from kitchen and home design magazines.  Find photos online and save them, or start a Pinterest board for your kitchen.  Use organization to streamline your ideas.  Create folders or boards for the various types of ideas.  Some of mine included: cabinet styles, kitchen colors, layout, types of lightening, faucet types, island shapes, barstools I liked, and so on. Having pulled these ideas together in an organized fashion will help you as you move on to making big purchasing decisions.
Bringing Kitchen Remodeling Dreams to Life – Conquering Cabinet Choices – Part 2:
Probably the least changeable feature of your kitchen is cabinetry.  You can install a new floor or backsplash- but it goes around those existing cabinets.  You can paint, again around the cabinets, or hang new light fixtures, but over the cabinets.  No matter if your kitchen remodel is small or large; cabinets have to be front and center in decision making.  The cost of cabinets will likely weigh heavily in any remodel.  According to HGTV.com, expect your cabinets to be 35 percent of the cost of any remodel.
Sixty-Year Transformation – Part 3:
The actual work on the 1953 kitchen renovation only felt like 60 years to me.  You can imagine how time stretched out when you think of the fun it must be to do dishes while hunched over your bathtub!  In reality, the kitchen renovation took 16 weeks and that included the first 2 to 3 weeks that were spent going back and forth with an architect and visiting vendors who supply everything from appliances to granite to glass.  It also included the last 2 weeks, where we could use the kitchen but were waiting on backsplash tile stuck in the horrible winter blizzards of 2014.  So, all in all, the painful portion took 11 weeks, which I am told is amazing timing by others who have had major renovations done.  Not only that, we had Thanksgiving, Christmas, and New Year's holidays where workers, and us, took off from our duties, as we were the paint crew.  All in all, our contractors were amazing!
Comments and Reviews