Valentine Evening Dinner Menu and Recipes
Show your love with this delicious and intimate Valentine Evening Dinner for your sweetheart with this romantic and decadent dinner.  Avoid the hassle of the restaurant rush with this cozy dinner for two.
This menu and recipes was generously shared with my by Linda Sandberg of Newberg, OR.  Linda belongs to a Gourmet Dinner Group that delights in wonderful food that they share together.  These are some simple recipes that are sure to please your favorite valentine!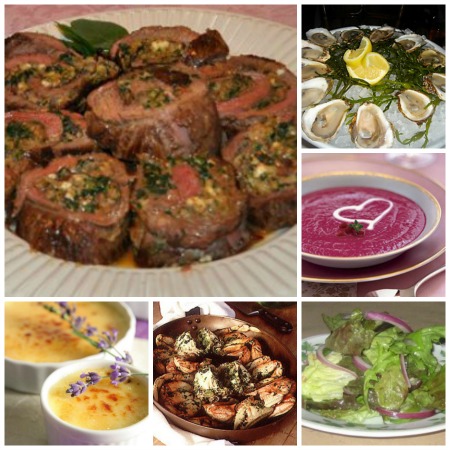 1st Course – Appetizers:
Oysters On The Half Shell
To those people who love oysters, there is little that can compare with a cold, plum, raw oyster that is sipped from its shell.  Served with a homemade Mignonette sauce or cocktail sauce and it is perfect!
2nd Course – Soup Course:
Roasted Beet Soup with Créme Fraiche
The colors are beautiful, taste is excellent, and this Roasted Beet Soup with Creme Fraiche is so easy to make.  What more could you want to please your valentine and yourself?
3rd Course – Seafood Course:
Oven-Roasted Dungeness Crab
The buttery sauce that coats the crabmeat and the shells is part of the pleasure of this eating crab dish.  To really enjoy this crab, dispense with the utensils and just eat the crab with your hands.  It is "finger-linkin good!"
4th Course – Salad:
Mixed Greens with Truffle Oil Dressing
This salad is a wonderful gastronomic experience.  The truffle oil provides a new meaning to salads as there is something about the smell that makes you want to throw aside your fork and eat the salad with your fingers!

5th Course – Main Course:
6th Course – Dessert:
Lavender Creme Brulee
If you love lavender and love crème brulee, this Lavender Crème Brulee dessert will instantly WOW you!
Finale:
This course can either be served at your dining table after clearing the dishes or in the living room.
A good way to end a meal is with a (decaf) latte.  Learn how to make a perfect cup of Coffee.
Food Safety Pages. Check them out!
Also includes what to do if your guests have been delayed at least an hour
Golden Rules of Food Safety – IF IN DOUBT, THROW IT OUT!   If you have any question in your mind about the freshness or safety of eating a food product, throw it out.  It is better to be safe than sorry!
Picnic Safety Tips – There is nothing more American than the picnic.  Picnics can take on many forms, such as the community picnic, friends and neighbors, tailgate parties, or ball games.  There is also one sure thing at every picnic-lots of good food.  The important point is to have safe and healthy food, not food that can cause food borne illness.  Always prepare and store food properly.
Summer Safety Tips – Summer is the time for barbecues and picnics.  The biggest party crasher at summer picnic and buffets is food borne bacteria.  You can't see them and you can't taste them, but you sure can feel them if illness occurs hours or days later.
Comments and Reviews