Check out this healthy Beet and Goat Cheese Salad Recipe.  It is unbelievable how delicious the combination of beets and goat cheese taste together.  This salad is a definite winner!
I make the beets a day ahead so it is easy to assemble the next day.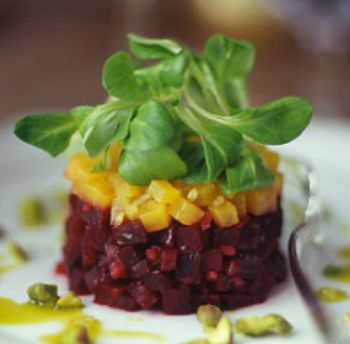 This delightful salad recipe and dinner menu were generously shared with my by Linda Sandberg of Newberg, OR.  Linda belongs to a Gourmet Dinner Group that delights in making wonderful foods that they share together.  Check out Prime Rib (Standing Rib Roast) Christmas Dinner which includes this recipe.
More delicious Salad and Salad Dressing Recipes.
Beet and Goat Cheese Salad with Pistachios Recipe:
Keyword:
Beet and Goat Cheese Salad with Pistachios Recipe
Ingredients
3

large

red beets

(1 2/3 pounds without greens)*

2

large

golden beets

(1 pound without greens)*

1/4

cup

shallot,

minced

2

tablespoons

lemon juice,

fresh-squeezed

3/4

teaspoon

salt

1/4

teaspoon

black pepper

1/4

cup

pistachio oil**

4

ounces mild

goat cheese,

soft

3

tablespoons

pistachio nuts,

salted, shelled, not dyed red, and coarsely chopped

1

ounce (4 cups)

mache

(also called lamb's lettuce), trimmed***
Equipment Needed:
2 1/2-inch

round cookie cutter

(at least 2 inches high)
Instructions
Preheat oven to 425 degrees F.

In separate bundles, wrap the red and golden beets tightly in double layers of aluminum foil. Roast the beets in the oven until they are fork tender, about 60 to 90 minutes. Remove the beets from the oven, carefully unwrap the foil and let them cool enough to handle. Check out my tutorial on Oven-Roasted Fresh Beets.

While the beets are cooling, make the dressing by whisking together the shallot, lemon juice, salt, and pepper in a small bowl. Slowly add the pistachio oil in a slow, steady stream, while whisking to incorporate; set aside.

Once the beets are cool enough, trim off the ends and then slip off and discard the skins. Keep the red and golden beets in separate bowls. Cut the beets into 1/4-inch dice. Pour 2 1/2 tablespoons of the prepared dressing into each bowl and gently toss to coat the beets. NOTE: Beets can be roasted and diced 1 day ahead and chilled, covered. Bring to room temperature before using.

Set the cookie cutter in the center of 1 of 8 salad plates. Spoon 1/8 of the diced red beets into the cutter and pack down with your fingertips. Crumble 2 teaspoons of goat cheese on top, then add 1/8 of the diced golden beets; again packing them down with your fingertips. Gently pull the cutter up and away from the stack of beets. Repeat with the remaining 7 servings. NOTE: Molded beet salad (without the mache) can be assembled 45 minutes ahead of time and kept, covered, at a cool room temperature.

Drizzle each plate with 1 teaspoon of the Dressing and scatter a few pistachio nuts around the salad.

Toss the mhe with just enough remaining dressing to coat and gently mound on top of the beets on each salad plate.
Recipe Notes
* Please don't throw away those fresh beet greens when cooking fresh beets. Cook the beet greens and enjoy a delicious and nutritious dish just like your grandparents grew up with.  Learn Beet How To Cook Fresh Beet Greens.
** If you canno't find pistachio oil, you can use walnut oil or even olive oil, or you can make your own.  Toast 1 cup pistachio kernels.  When cool, finely grind in food processor.  In a saucepan, warm 1 1/2 cups olive oil or canola oil and ground pistachios; stir until blended.  Transfer to a jar and let stand overnight at room temperature.  Strain befoe using.  SOURCE: California Pistachio Commission
*** Mache - This popular lettuce originates in Europe where it is belovedly called "Little Sweet One" by the French.  It is also known by many more names such as lamb's lettuce, field salad, corn salad, field salad, field lettuce.  The plant grows in a rosette of long spoon shaped leaves which may also be clustered in loose heads.  It is usually sold bunched together with its roots.  If you can't find Mache in you grocery store, argula leaves may be substituted.
Sources:  I have slightly adapted from Gourmet magazine, December 2002 and the Epicurious.com website.  Photo by Quentin Bacon.
Comments and Reviews