Bite into family history and let the aroma of these freshly baked Date Nut Bars, conjure up your childhood memories.
At least that is the affect these Date Nut Bars have on my friend Lisa Jaworski.  She shares with us her ancedote about these intrguing bars.  Lisa says, "This family favorite Date Nut Bars recipe comes from my Great Grandmother Marie, who came here from Caserta, Italy in 1898 through Ellis Island.   Don't know where she got the recipe, but she was a wonderful chef trained by the nuns.  She had 9 children to feed and she did it all from scratch.  We used to sneak these treats off the tray when we were kids.  Well, at least we thought we were sneaking them, but my Mother probably knew all along."
Check out Lisa's Pretty in Pink Afternoon Tea Menu which includes these delicious bars.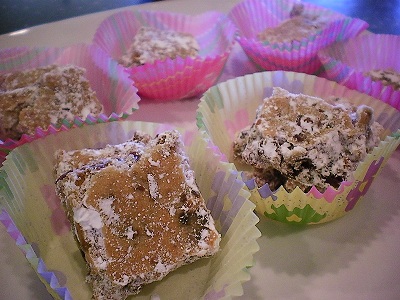 More favorite Cookie Recipes and Secrets To Making Perfect Cookies.  Also learn How To Have A Successful Holiday Cookie Exchange or Cookie Swap.
Date Nut Bars Recipe:
Keyword:
Date Nut Bars Recipe
Instructions
Preheat oven to 350 degrees F. Lightly grease an 8x8-inch pan with butter or non-stick spray.

In a large bowl, mix together the walnuts, dates, powdered sugar, and eggs. Add lemon juice, flour, butter, and salt, mixing well. Pour into prepared baking pan.

Bake approximately 20 to 25 minutes or until slightly brown on top. Remove from oven and cut into squares while the bars are still hot. Note: A pizza cutter works great.

Roll the date squares in powdered sugar, making sure to heavily coat them.

Note: If doubling the recipe use a larger pan and cook for at least 30 minutes.

Storage: These Date Nut Bars will keep, covered, in the refrigerator up to a week.
Comments and Reviews