This is truly an old-fashion homemade mincemeat recipe that is actually made with meat in it.  Unfortunately, most people have never tasted a true old-fashioned mincemeat pie (also called mince pie).  The flavor of real mincemeat pie (not the bottled version purchased at your local store) is sort of like a Middle Eastern mixture of cloves, cinnamon, and nutmeg.  You will love this recipe.
History:  Today, we are accustomed to eating mince pie as a dessert, but actually "minced" pie and its follow-up "mincemeat pie" began as a main course dish with more meat than fruit (a mixture of meat, dried fruits, and spices).  As fruits and spices became more plentiful in the 17th century, the spiciness of the pies increased accordingly.  Learn more about the History of Mincemeat.
This is my grandmother's actual recipe for mincemeat.  My mother always made this mincemeat recipe every Thanksgiving and Christmas for our holiday mincemeat pies.  Learn more about mincemeat and check out my family's favorite Mincemeat Pie Recipe.
Grandma's Homemade Mincemeat Recipe:
Keyword:
Grandma's Homemade Mincemeat Recipe, Old Fashioned Mincemeat Recipe
Ingredients
4

pounds

venison,

elk, or beef

Water

2 1/2

cups

suet,

finely chopped or grated*

7 1/2

cups tart

apples,

chopped

3

cups

liquid

(liquid from meat of your choice it was cooked in)

5

cups granulated

sugar

3

cups

apple cider

1

cup

molasses

1/2

cup

cider vinegar

3

cups

raisins

2

tablespoons

cinnamon,

ground

1

tablespoon

cloves,

ground

2

tablespoons

allspice,

ground

2

tablespoons

nutmeg,

ground

Juice

of 2 lemons

Juice

of 2 oranges

1

cup

brandy

or sherry
Instructions
Trim fat from meat of your choice and discard.

In a large heavy pan over medium heat, place meat; cover with water and simmer until the meat is tender. Remove from heat and refrigerate meat in the cooking liquid overnight.

Remove from refrigerator and remove meat from liquid. Remove all fat from top of liquid; discard the fat and reserve the remaining liquid. Separate meat from bones, discard bones. Chop cooked meat into small cubes.

In a large pot, combine meat cubes, beef suet, apples, reserved liquid, sugar, apple cider, molasses, cider vinegar, raisins, cinnamon, cloves, allspice, nutmeg, lemon juice, and orange juice; simmer for 2 hours. remove from heat. Add brandy or sherry and mix together.

It is best to let mincemeat stand at least a couple of weeks before using. I store mine in the refrigerator. Freeze in air-tight containers for longer storage.
Recipe Notes
*  Suet is a solid while animal fat. The best Suet comes from the fat that grows around the kidneys in cows and sheep. You can purchase packages of suet from your local butcher or from the meat department of your local grocery store.  It then needs to be coarsely grated to make it ready to use. It also must be kept refrigerated prior to use and used within a few days of purchase, just like meat.  You can also substite lard, shortening, butter, or bacon fat.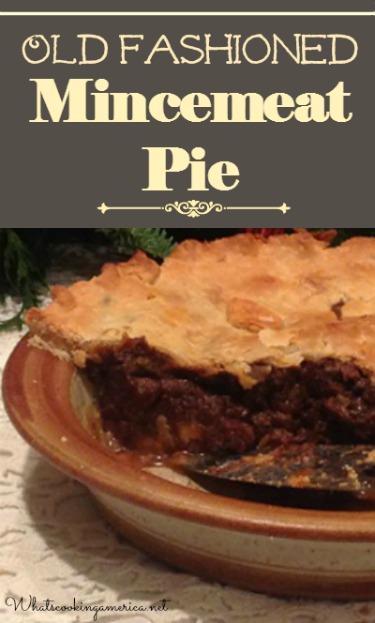 Comments and Reviews