Linguine and Shrimp is a dazzling Italian-style pasta dish that is very simple to make, very elegant to serve, and also hearty.  This pasta dish contains lots of fresh tomatoes and shrimp that is very yummy!  Linguine and Shrimp pasta dish is great to serve when you need a quick, easy, and delicious dish to serve your family or guests.  It is also great past dish to serve any time of the year.  I know you entire family will love this pasta dish.
The pasta dish only take about 20 to 30 minutes or even less to put together as the dish uses two fast-cooking ingredients – pasta and shrimp.  Put this fantastic Linguine and Shrimp dish on your must-make list of meals that are simple, fast, and delicious.  You will not be sorry!  I am a genuine pasta lover!  You would think I was Italian, and not English/Scottish.
For last-minute dinner dishes, always keep several different types and shapes of pasta in your pantry.  Cooking pasta is very easy to do and always a favorite.
Learn about Purchasing, Deveining, Cooking, Brining, and Etiquette of Shrimp.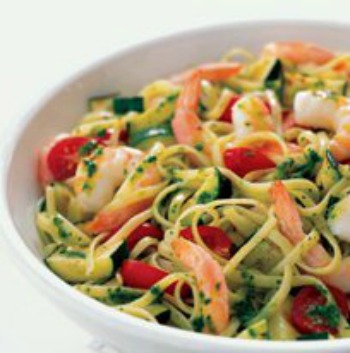 Linguine with Shrimp Recipe:
Keyword:
Linguine with Shrimp Recipe
Ingredients
1

(8-ounce) package dried

linguine pasta

1

tablespoon

olive oil,

extra-virgin

2

cloves

garlic,

minced

1

cup fresh Italian-style plum

tomatoes*

12

green or black

olives,

pitted and sliced

1/2 to 3/4

pound

shrimp,

shelled and deveined**

1/4

cup fresh

dill weed,

chopped

1/3

pound

feta cheese

(plain or peppered), crumbled
Instructions
In a frying pan over medium heat, saute garlic in olive oil until soft. Add tomatoes and break them up with a wooden spoon. Add olives and shrimp; cook, stirring, 3 to 5 minutes or until shrimp are opaque in center (cut to test).

NOTE: Shrimp should always be cooked quickly in order to preserve their sweet, delicate flavors. They are very quick to cook, and the flavor can easily be ruined by overcooking. Most shrimp cook in as little as 3 minutes - when they curl and turn pink, they are done. Properly cooked shrimp are firm with a gentle curve shape (like the letter "C").

Add the dill weed and feta cheese; stir until cheese begins to melt. Remove from heat.

Add the pasta to the tomato-shrimp mixture; tossing to coat evenly. Place pasta onto individual serving plates and serve immediately.
Recipe Notes
*  If you can not get fresh tomatoes, you could substitue good-quality canned diced tomatoes.  I, personally, like using the fresh tomatoes for the best taste.
**  Fresh shrimp is highly perishable!  Fresh shrimp should ideally be eaten within 24 hours of purchase.  Unless you live in the part of the country where you can actually buy "fresh" shrimp, it is best to buy frozen shrimp.  Most shrimp in the grocery stores are frozen shrimp that has been thawed.  The shelf like of thawed shrimp is only a couple of days, whereas shrimp stored in the freezer retain their quality for several weeks.
Comments and Reviews