Peggy's Baking Corner – 

Comments From Cake Bakers
Oh Peg —How I Do LOVE You!!!  After today decorating my fourth MMF covered cake I had to send you some pictures! Y ou have saved me.  You have taken cake baking to an entirely different level.  I love your buttercreme — recipe and tips!   And the MMF speaks for itself.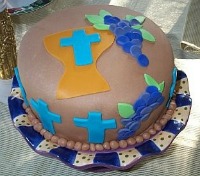 The first cake was for my son's first communion and he helped make the decorations – (MMF just begs for little hands doesn't it?)  This was my first attempt at chocolate MMF.
The second photo, the star cake, was my first attempt with MMF ever for my daughters 9th birthday.  RAVE reviews followed!!!  Thank you very much.  My third cake was a birthday gift – and was adorable – but can you believe we forgot to take pictures???
And today, well today we took Barbie to a whole new level!  As you can see, even her bodice is MMF coated with clear edible glitter, the buttons down the back (as well as adorning the train are silver dragees.  Barbie's dress needs the natural "drape" of MMF,  so no need to worry about taking out all the "wrinkles"!
After experimenting with both cornstarch  and Crisco, cornstarch works better for me by far, when rolling out the fondant.  I find that letting the fondant rest, uncolored overnight is ideal.  Then when adding the gel color, you can work out any remaining persistent powdered sugar "lumps".  (Yes, I sift like a mad woman.)  Which of course you have told everyone all of this countless times, but thought I would share.
I can't say thank you enough.  To anyone who is thinking this sounds too messy or complicated to make MMF, it's as simple to make as Rice Crispie Treats and you will have the most beautiful cake you have ever served.
You sifting friend, L Held, Wisconsin
---
Thank you so much for the information that you provide on your baking corner!  Thanks to your advice and recipes,  I was able to make my 2 year old's birthday cake really special.
It did not turn out perfect, but it was pretty neat and very tasty.  I had never made fondant and I had never piped icing before and it was so exciting and empowering to do so.
What a great resource!!  Many Thanks – Lindsey Henrard (8/11/06)
---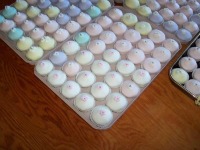 Thank you for such a great site!   It is nice to be able to read and follow such detailed instructions.
I am making enough petit fours to cover a 6 tier server that has an 18″ diameter bottom.  They are all safely made and in the freezer.  I know it's not supposed to freeze very well, but I did a trial run, and after 3 weeks they thawed nicely and looked like new so we went ahead with the 265.   We actually made mini-cupcakes because they were easier to handle.   Using a small ice cream scoop to put the batter in the baking pans made them all the same size.
 I have one comment about making the fondant.  I was not going to try it at first because I cannot stand at a counter and knead for hours because of serious back problems.  However, I read all the comments and was delighted to read the one from the lady who said she used her Kitchen Aid stand mixer.  I also have the 4-litre Kitchen Aid so decided to give it a whirl.  Five (5) batches later, I can add a tip …. do not just grease the inside of the bowl and do not just use your dough hook.  I measured out the 1/2 cup of Crisco.  I used about half of it to grease the inside of the bowl and the beater paddle (not the whip!).  When it was thoroughly mixed, I removed the paddle and using a spatula, pushed all the fondant into the center of the bowl.  Then, using most of what was left of the Crisco, re-grease the bowl and the dough hook, install the dough hook and knead for about 5 to 8 minutes until smooth.   I then followed your instructions, greased it well with Crisco, doubled wrapped it in plastic wrap and used it 4 days later, adding color and almond flavoring as I went.
Photo is attached of the finished product.  These cupcakes are about 1 1/4″ in diameter. – Carol Simpson, Salt Spring Island, BC Canada (7/22/06)
---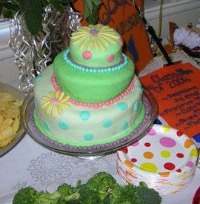 THANK YOU THANK YOU THANK YOU!!   I have tried, in the past, to make other fondant – they never really turned out right.  Then I found your site!   What a great recipe!   It was so easy.  I tasted it and loved it, of course.   But I love most sweets, they are my weakness.
I was afraid that others may find it too sweet.  So my husband was the guinea pig – he is not so hot on the sweet stuff.  HE LOVED IT TOO!   He was amazed at the ingredients; so simple.
Everyone loved the MM fondant at the party that I made the cake for.  They could not believe that I actually made the cake; that it was not  purchased from a bakery.  It came out great!  Now I have the confidence to make all of my cakes with this great tasting fondant.  Now I just need to perfect the coloring.
Thank you – Monica Garza-Vickery, Texas (7/15/06)
---
Peggy, I made your wonderful MMF and it taste great and is very easy to work with.  I am sending you a photo of my first tiered baby shower cake using your wonderful ideas and recipes.  Your site is great!  Thanks for your advise.
Have a blessed day. – Deborah Ward (7/12/06)
---
I just wanted to take a moment and thank you SOOOO much for sharing your Marshmallow Fondant recipe.  I was so displeased with the "store bought" fondants that I had refused to try to decorate with anything that required a fondant icing.
I saw your recipe online and was so excited (and scared) that I would not be able to make it.  I even contacted friends who lived on the west coast (I live in Georgia) and had them send me the "C&H" powdered sugar – just to be sure I followed your instructions to the "T".
I was elated!  Not only was it delicious but I was so proud of my accomplishment that I wanted to send you pictures of the cake and cupcakes that I made.  Thank you again!  You helped to make my daughter's baby shower a HUGE success! – Deborah Sullins (3/27/06)
---
I baked and decorated my first ever cake at the age of 28 for my sister-in-law's bridal shower.  Thanks for the excellent advice on your website.  I got complements such as, "It's tastes as good as it looks."  Thanks so much. – Timera Garcia (8/03/05), Milwaukee, WI
---
I just had to write you to let you know how talented I think you are.  I am new to cake decorating and I am making a wedding cake for my cousin in September.  As you can imagine, I'm very nervous.  But after reading some of your advice….especially about "no one makes a perfect cake"….I am feeling a little more confident.  I always pick at my cakes….I always seem to find something wrong with them and point it out to people.  But I just wanted to say thank you, Not everyone shares what they know. – Rhonda (7/25/05)
Thank you so much Rhonda.  It was so nice of you to write.  Many new decorators are perfectionists and get wrapped up in that issue.  Also remember that the Bride is where the focus will be that day so if you make, what you consider imperfections, no one except other cake decorators, will notice a problem. And (laughing) they will probably be comparing your work to theirs.  The other thing is that the other decorators will be the ones who appreciate your work the most.  They know how much work goes into the cake and the hours you've spent.  I hope you have lots of fun. – Peg
---
I found your fondant recipe on the internet.  THANK YOU SO MUCH!!!!!!!!!   It is great.  I had to do a wedding cake for a friend of mine for her wedding and she wanted a fondant covered cake.
I found the Wilton fondant in the store, and it tasted awful.  I know that there had to be a better recipe out there for fondant.  I did some searching on the net and found yours.   I was a little skeptical, since it was so easy compared to the other recipes that I found, but I figured the worst that can happen is that I waste or so and about $5 for ingredients.  I made the 1st batch that I would need for the cake and my 10 yr old wanted to taste it.  He loved it – He kept on coming back into the kitchen asking for more pieces.  I had some trouble with the sugar getting lumps, but fixed that by sifting the sugar for the second batch.
I found directions for making roses, and when they were dry, they looked like porcelain roses.  The bride loved it.  She said that she did not want to cut into the cake.  Now, I need to find directions for making other flowers…
Thanks for your expertise and sharing your knowledge.
---
I just wanted to let you know, I tried your MM Fondant recipe this past weekend for a wedding cake.  I had only used packaged fondant once for a trial run and was not happy with the results.  I was terrified to do this cake, but I am happy to say that the cake turned out wonderful!  Your recipe was easy to make and the resulting fondant was much easier to work with and more smooth in texture.  People ate it and said it was wonderful!  Thank you Thank you Thank you!!  – Gina Casseday (9/14/05)
---
Much thanks!  I'm researching Butter Cream Frosting.  Yes, I am a man. I do all the baking for my wife and I've found a cake that I want to make that I think would taste better with a Butter Cream Frosting.  Every place I've researched, I've got "recipe answers".  Your write-up on the ins and outs of butter cream made sense and was VERY helpful. Many thanks. – Rod W. Querry (9/27/05)
---
Check out some of Peggy Weaver's many Cake Decorating Articles, Tutorials, and Q&A pages below.
Peggy's Baking Corner Home Page
Peggy Weaver, author of Peggy's Baking Corner, has generously answered all the above question on cake baking during the last 15 years.  Peggy will not be able to continue with the Question and Answer pages in the future.  She thanks you for all your interesting questions.

Fondant Icing/Covering:
Fondant Icing 101 (Recipe and Tutorial on making & using fondant icing)
Covering Cakes with Fondant Icing
Decorating Cakes with Fondant Icing
Fondant does not freeze well at all, as a matter of fact, downright lousy.  Do not even think about refrigerating it either.  The condensation that can occur when you defrost or bring to room temp can destroy the finish of the fondant.
Now, if you are going to freeze the cake, as many folks do until the first anniversary, yes go ahead and freeze.  The cake will not look as beautiful as it did originally but you just have to keep the idea in mind that it was perfect on the day of the wedding.
Buttercream Icing/Covering:
Buttercream Icing 101 (Recipe and Tutorial on making & using buttercream icing)
Wedding Cakes:
Assembling Cakes/Wedding Cakes
Decorating Wedding Cakes (Lots of Q&A's on decoration a wedding cake)
Other Cake Baking and Decoration Topics:
Peggy's Cake Decorating Idea Photos (The idea page has photos only and no detailed decorating instructions.)
Comments and Reviews