There are probably as many different pork carnitas recipes as there are chili con carne recipe. In Mexico, carnitas are a popular snack. The pork is often used as a filling in tacos, but carnitas are cooked and eaten in a variety of styles. Learn the proper technique for making crispy carnitas to enjoy for your next taco night as Melanie's recipe is easy-to-make and so delicious!
This recipe and photos are courtesy of Melanie and her cooking blog called Duck Soup. Melanie says, "We love all things Mexican at our house, but pork carnitas are a particular favorite."
Learn more about tortillas and tacos, check our the History of Tortillas and Tacos.
Pork Carnitas Recipe:
Keyword:
Pork Carnitas Recipe
Ingredients
2 to 3

pounds

pork shoulder,

boneless

4

cloves

garlic,

minced

Mexican

oregano,

to taste

Salt

to taste

Water

Tortillas

(flour or corn)*

Guacamole,

prepared**

Salsa,

prepared**

Sour cream

Sharp

cheddar cheese,

grated
Instructions
Cut up the pork shoulder into 1-inch chunks.  NOTE: You will NOT remove the fat because the fat is what makes it good.  In fact, if you use a lean cut of pork like the tenderloin, you will need to add some lard to your skillet.

Place pork cubes in your cast-iron skillet or a large heavy frying pan.  Sprinkle with Mexican oregano and salt.

Add enough water to almost cover the pork cubes (let some of the meat break through the surface).

Over medium-high heat, bring water just to a boil; reduce heat to medium low and let simmer for 45 to 60 minutes or until the water cooks down and the pork carnitas meat ntil all liquid evaporates and the pork is crisp and easily pierced with a fork (the pork will render all of its fat and get nice and crisp in the pan).  Remove from heat.  Either leave in the cubes or place the pork on a cutting board.  Using two forks, shred the pork into thin strips.  Keep the pork carnita meat warm while preparing your other ingredients.

After the pork is cooked, remove the pork and clean out your skillet.  Place skillet back on medium heat to get hot.  If you are using store-bought tortillas, heat the tortillas one-by-one in the hot skillet.  If you heat them on a skillet you may need to use either little butter, vegetable oil, or cooking spray to help soften them.  When air pockets form in the tortillas they are done.

To serve, double up the tortillas and place a few spoonfuls of the pork carnitas on them.  Top with guacamole, salsa, sour cream and/or grated cheese (use whatever condiments you prefer).  Cooked pork carnita meat may be stored in the refrigerator for 3 to 4 days.  Reheat before using.
sponsored content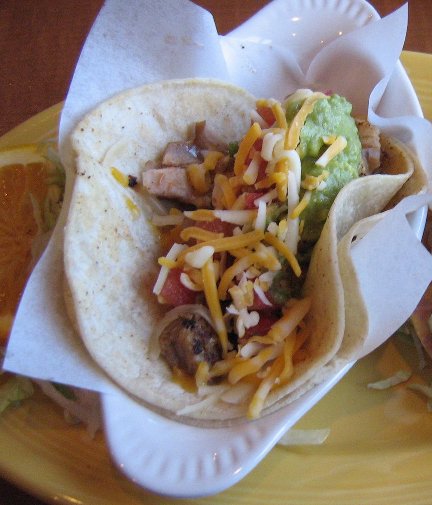 Comments and Reviews