The Spice-Braised Pork Ribs have interesting spices, and are so tender that you will be able to eat them with a fork!
This recipe is from the Urban Tavern Restaurant in the Hilton Union Square, San Francisco, CA.  Recipe appeared in an article by Noelle Carter in the Los Angeles Times newspaper, May 6, 2010.  Photo by Glenn Koenig.
At the restaurant, these ribs are served over a large-grain type of couscous called fregola from Sardinia and seasonal vegetables.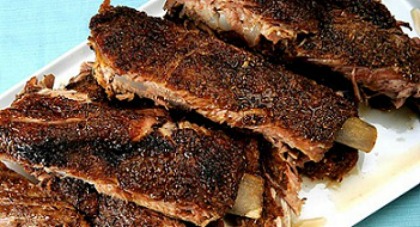 More great Pork Recipes and also Pork Ribs/Sparerib Tips.
Spiced-Braised Pork Ribs Recipe:
Keyword:
Spiced-Braised Pork Ribs Recipe
Ingredients
Spiced-Braised Pork Ribs:
2

racks

pork spareribs

(preferably St. Louis-style), silverskin removed*

1

cup

apple cider

2

cups

chicken broth

or chicken stock**

2

cups

beef broth**

2

bay leaves

Salt

and pepper

2 1/2

cups

apples,

diced (about 2 apples)

2 1/4

cups

onion,

diced (about 1 onion)

1

cup

carrots,

diced (about 2 carrots)

1 1/2

cups

celery hearts,

diced (from about 1 bunch)
Spice Rub:
1/2

cup

fennel seeds

1/2

cup

coriander

seeds

2

tablespoons

ginger powder

2

tablespoons

nutmeg,

ground

1

tablespoon

smoked paprika

2

tablespoons

coarse salt

or kosher salt

1

teaspoon

black pepper

1/2

teaspoon

cayenne powder
Instructions
Spiced-Braised Pork Ribs Instructions:
Prepare Spice Rub. Using your hands, coat the rib racks generously on each side with the prepared Spice Rub. Refrigerate, uncovered, overnight to season.

The next day, in a large saucepan over high heat, add the apple cider, chicken broth, beef broth, and bay leaves; bring just to a boil. Remove from heat and season with salt and pepper to taste; set aside but keep hot.

Heat your oven to the broiler setting. Place the spice rubbed ribs on a rack over a rimmed baking sheet. Broil the ribs until browned on each side, approximately 2 to 4 minutes per side. Remove from the oven.

Reduce the oven temperature to 300 degrees F.

In a large roasting pan, combine together the diced apples, diced onion, diced carrots, and diced celery hearts. Place the seared rib racks on top, pouring any drippings from the baking sheet over the ribs. Pour the hot broth/stock over the ribs. Cover the pan tightly (first with parchment paper, then a layer of plastic wrap, and finally with a layer of aluminum foil). NOTE: Create as tight a seal as possible.

Place the covered roasting pan in the oven and braise the ribs for approximately 3 hours. Ribs are done when they are tender enough to easily pull the meat from the bones and the internal temperature registers 180 to 200 degrees F. on your instant-read meat thermometer. Some people like their ribs cooked longer.

Remove from oven and let ribs cool completely. When cool, skim the fat from the pan and set the ribs aside.

Strain the braising liquid (we had about 1 quart) into a saucepan and bring to a boil over high heat. Reduce the sauce by half.

To reheat the ribs: Place the cool ribs in a roasting pan and pour the sauce over the top. Place the ribs in a preheated 325 degrees F. oven and heat until the ribs are warmed through before serving.
Spice Rub Instructions:
In a medium-size frying pan over medium heat, toast the fennel and coriander seeds until aromatic, approximately 2 minutes. Remove and heat and cool completely. Once cool, grind the fennel and coriander seeds to a fine powder using a spice mill or coffee grinder. Place the ground coriander and fennel into a small bowl. Add the ginger, nutmeg, smoked paprika, salt, pepper, and cayenne powder to form a rubs.

You may not use all the rub for this recipe. Store rub in an airtight jar or re-sealable plastic bag in a cool, dark place for up to 4 to 6 weeks.

Makes a generous 1 cup rub.
Recipe Notes
* For St. Louis-style (or mock baby back) ribs, take a rack of spare ribs and trim the skirt meat along the underside of the rack.  Then remove the rib tips at the joint before removing the silverskin from the underside of the rack and trimming the edges to clean.  Alternatively, ask your butcher to prepare the rack for you.
** Learn how easy it is to make your own homemade Chicken Stock - Basic Chicken Stock and homemade Beef Stock.

I get many readers asking what cooking/meat thermometer that I prefer and use in my cooking and baking. I, personally, use the Thermapen Thermometer. Originally designed for professional use, the Super-Fast Thermapen Thermometer is used by chefs all over the world.  I only endorse a few products, on my web site, that I like and use regularly.
You can learn more or buy yours at: Super-Fast Thermapen Thermometer.
Sponsored Content
You Might Also Like:
Blackberry Barbecued Ribs
These barbecued ribs are so good that you'll lick your fingers clean!
Memphis-Style Smoked Spareribs
Delicious, tender, and so easy to make.
Jalapeno Jerk Baby Back with Pineapple Barbecue Sauce
My son-in-law, Ben Weller, smoked these delicious pork ribs for our family gathering.
Comments and Reviews