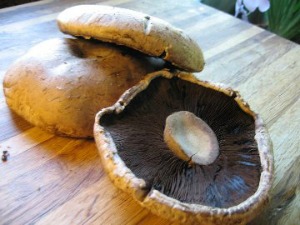 This Marinated Portobello Mushrooms recipe comes from Bob Neubauer, a "foodie" friend from Gail's Recipe Swap.  Bob said that this recipe is not his creation, but that he found this recipe photocopied off next to the bin of portobello mushrooms at the grocery story approximately 5 years ago.  He says,  "This is my first and still favorite recipe for portobello mushrooms.  I've heard people compare these to very tender fillet mignons!  The lime juice really sets this off – truly one of my favorite recipes."
A portobello mushroom is a very large cremini, and a cremini is a brown or cream-colored version of the white button mushroom.  The flavor of the portobelo is the same as that of the common supermarket mushroom, except it is more distinct because it is older and more developed.  The gills on the underside of the mushroom have progressed to a greater degrees from the pale pink stage at their first break.
Recipe from the Portobello Cookbook: 40 Quick and Easy Recipes, by Jack Czarnecki.  Jack is renowned for his expertise cooking all types of specialty mushrooms.
Marinated Portobello Mushrooms Recipe:
Keyword:
Marinated Portobello Mushrooms Recipe
Servings
:
4
to 6 servings
Instructions
In a large frying pan over medium-high heat, sautmushrooms with some of the olive oil for 2 to 3 minutes or until they are tender. Remove from heat.

Arrange cooked mushrooms evenly in one or two layers in a large baking dish. In a small bowl, combine olive oil, lime juice, garlic, parsley, shallots, white pepper, and salt; pour over mushrooms. In the refrigerator, marinate at least 4 hours or overnight.

Serve either cold or at room temperature. Plate on individual salad plates as an appetizer with 3 slices on the bottom at a diagonal and another 3 slices on top in the opposite direction (makes an appealing diamond pattern). Drizzle some of the marinade over the top, making sure you get some of the shallot and garlic.
Comments and Reviews