I originally created this Roasted Lemon Rosemary Chicken to use the bald lemons I had collected.  Now, if you do not have bald lemons, just use lemons with the skins (as I have done in the below photos).  I had many bald lemons in the refrigerator from making Limoncello (click on Limoncello if you don't know what it is).
This way of cooking this Roasted Lemon Rosemary Chicken produces the absolute moistest chicken I have every tasted.  The chicken is moist and flavorful and easy to make and came out incredibly juicy.  My husband gave this a "10" rating – This is his best rating.  He is my official taster when I create new recipes.  This was the best roast chicken I have ever made.  This chicken is versatile enough for a weeknight dinner or weekend dinner party.
When fully baked, this produces the most wonderful lemon chicken broth.  You could make this into a gravy to serve over rice or mashed potatoes.  I did not do it this time, but will in the future.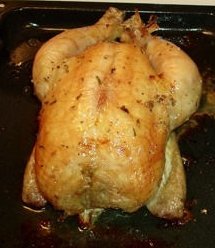 Read more guidelines about roasting the perfect chicken:  Perfect Roast Chicken Recipe – Guidelines For Roasting Perfect Chicken.
Learn how to Brine Poultry (Chicken and Turkey) and check out more outstanding Poultry Recipes.
Roasted Lemon Rosemary Chicken Recipe:
Keyword:
Roasted Lemon Rosemary Chicken Recipe
Instructions
Preheat oven to 350 degrees F. Remove any bits of loose fat on the chicken; pat dry all over. Sprinkle the chicken generously inside and out with salt and pepper; rub in seasonings.

Cut lemons into halves (cut in quarters if the lemons are large). Place 4 halves (or quarters) of lemon in the cavity of the chicken, stuffing rosemary sprigs in also (be generous with the rosemary). Slice remaining lemon halves into thick slices (1/4-inch slices). Loosen skin on the chicken and stuff lemon slices and rosemary sprigs under the skin. Lightly oil the skin with olive oil.

Close up the opening with toothpicks or with trussing needle and string. Wrap chicken in aluminum foil and place onto rack of shallow baking pan.

Bake approximately 1 1/2 to 2 hours or until a meat thermometer registers an internal temperature of 165 degrees F (juices will run clear when cut with the tip of a knife). The last 1/2 hour of cooking, open aluminum foil to let chicken brown.

Remove from oven, remove aluminum foil, and transfer onto a serving plate. Let chicken stand 10 minutes to allow juices to set for easier carving. Skim and discard fat from pan juices. Serve chicken with roasted lemon wedges and pan juices.

Check out my Nutritional Chart for fat grams, fiber grams, and calories for all your favorite foods.
Recipe Notes
* The U.S. Department of Agriculture, as well as food agencies in the United Kingdom and elsewhere, advises against washing poultry.  Rinsing chicken will not remove or kill much bacteria, and the splashing of water around the sink can spread the bacteria found in raw chicken.  Cooking poultry to 165 degrees Fahrenheit effectively destroys the most common culprits behind food-borne illness.
Nutrition Facts
Roasted Lemon Rosemary Chicken Recipe:
Amount Per Serving
Calories 274
Calories from Fat 86
% Daily Value*
Fat 9.6g15%
Carbohydrates 7.5g3%
* Percent Daily Values are based on a 2000 calorie diet.

I get many readers asking what cooking/meat thermometer that I prefer and use in my cooking and baking. I, personally, use the Thermapen Thermometer. Originally designed for professional use, the Super-Fast Thermapen Thermometer is used by chefs all over the world.  I only endorse a few products, on my web site, that I like and use regularly.
You can learn more or buy yours at: Super-Fast Thermapen Thermometer.
Sponsored Content
Comments and Reviews