Recipes for Instant Pot and other Electric Pressure Cookers
Learning to cook with an electric pressure cooker is life changing and gives you more time back in your day and less time monitoring your meal as it cooks.  This page features recipes for the Instant Pot Pressure Cooker which will also work for most electric pressure cooker brands. Recipes for convenient weeknight meals when there is not enough time in the day and you can still cook a meal even if you forgot to take the meat out of the freezer to thaw! Cook your main meat and side dish like rice, potatoes or vegetable in the same pot! Find recipes for roasts that will be fall apart tender in 1/3 less the time compared to conventional oven or slow cooking! Feel good about cooking healthy whole food meals from whole chickens, bone broth and comforting chicken noodle soup full of nutrients. Also save time on weekly meal prep and get more time back in your day to allow you to focus on other tasks or family time while the meal is cooking.
Note: This index page is a work in progress and we will be adding more recipes as we continue to convert many of our favorite recipes.  Keep checking back to find more pressure cooker recipes.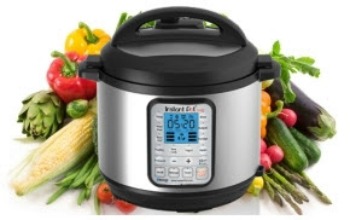 Learn how to use an Instant Pot Multi-Use Pressure Cooker
---
---
---
---
---
---
---
---