Pumpkin Custard has the taste of pumpkin pie, but without having to make the crust.  This recipe is a low-fat dessert so rejoice while you savor it.  It is a great option to add to a holiday table if you are trying to cut a few calories.  It is a delicious, easy-to-make custard using pumpkin to satisfy your cravings during your diet.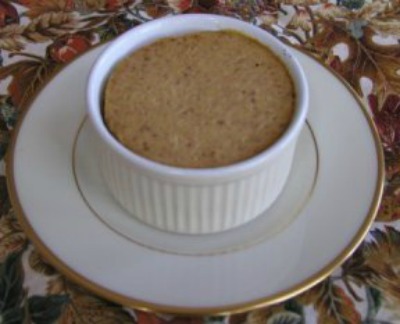 For more great Low Fat Recipes, Low Calorie Recipes, Low Carbohydrate recipes, and Diabetic Recipes, check out my Diet Recipe Index.  Also check out my Nutritional Chart for fat grams, carbohydrate grams, and calories for all your favorite foods.
Pumpkin Custard Recipe:
Keyword:
Pumpkin Custard Recipe
Instructions
Preheat oven to 350 degrees F. Adjust oven rack to center position.

Lightly butter (or use non-fat vegetable spray) eight (6-ounce) custard cups and set them into a large baking dish. Tip: Place a non-stick baking mat (called a silpat) or a tea towel in the bottom of your baking dish to both insulate and keep the ramekins firmly in place.

In a large bowl, beat eggs slightly; add sugar, pumpkin, salt, cinnamon, ginger, and cloves and beat until combined. Mix in hot milk until blended. Pour egg mixture into prepared custard cups. Sprinkle with nutmeg or cinnamon.

Bring the water for the water bath to a light simmer on top of the stove; carefully pour hot water into the baking pan to come at least half-way up the sides of the custard cups. NOTE: The most common mistake people make in baking a custard is not putting enough water in the hot-water bath. The water should come up to the level of the custard inside the cups. You must protect your custard from the heat. Carefully pour hot water into the baking pan to come up the sides of the custard cups.

Bake 25 to 30 minutes or until set around the edges but still loose in the center. The cooking time will depend largely on the size of the custard cups you are using and the altitude you are at. Begin checking at a half hour and check back regularly. When the center of the custard is just set, it will jiggle a little when shaken, that is when you can remove it from the oven. If using a digital instant-read thermometer, inserted in the centers. It should register 160 degrees F. Begin checking temperature about 5 minutes before recommended time.

High Altitude Cooking: Custards with a water bath will often need additional water during the baking time. Also your custards will need a longer cooking time because the altitude causes the water to evaporate faster.

Remove from oven and immediately remove cups from water bath; cool on wire rack until room temperature. Cover with plastic wrap, and refrigerate at least 2 hours or up to 2 days.

Makes 8 servings (depending on size of custard cups).
Recipe Notes
* The amount of eggs used can vary according to your needs.  When I make the custard for dessert, I usually use 4 eggs.  When making for breakfast, I increase the recipe to 6 eggs to provide more protein.
** If you are on a sugar-free diet or just trying to lose weight, substitute Splenda for the sugar.

I get many readers asking what cooking/meat thermometer that I prefer and use in my cooking and baking. I, personally, use the Thermapen Thermometer. Originally designed for professional use, the Super-Fast Thermapen Thermometer is used by chefs all over the world.  I only endorse a few products, on my web site, that I like and use regularly.
You can learn more or buy yours at: Super-Fast Thermapen Thermometer.
Sponsored Content
Comments and Reviews