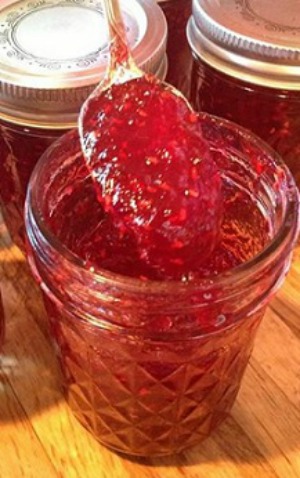 What is Pectin – It is a natural carbohydrate found in skin, core, and seeds of fruits that enables fruit juice to set up and form a gel.  Commercially, it is made from apples and citrus fruits as they are especially high in pectin.  It is a thickening agent that is most often used by adding it to jams, jellies, and similar products to help them gel and thicken, plus allows you to cook your homemade jam for a much shorter time which preserves the fresh flavor and color.  Available at grocery stores, especially during the canning season of spring through late summer.
Liquid vs Powdered – Use only the type called for in your recipe.  Powdered and liquid pectin are not interchangeable in recipes.  The preserving books seem to confirm that the reason they may not be interchangeable is that the liquid version is always added after boiling but most types of powdered are added to the raw fruit or juice.  After looking in many cookbooks, most recipes call for liquid pectin.
The Golden Rule – Stick to the original recipe, unless you are pretty much sure of what you are doing.
Check out What's Cooking America's delicious jams using pectin:
Blackberry Jelly
Do you remember picking fresh blackberries as a kid?  Mom would then make a homemade Blackberry Pie and some homemade blackberry jelly.  So good! I have learned from experience to wear a long-sleeved shirt and gloves to prevent all those scratches when picking blackberries.

Jalapeno Pepper Jelly
The jalapeno jelly is fantastic with cream cheese and Triscuit crackers!  It looks so pretty in red and green (for Christmas presents in pretty jelly jars).  The key to this jelly is in the cooking times and the amount of fruit/meat used.

Lavender Jelly
This exotic and gorgeously pretty lavender jelly will truly delight your taste buds with pleasure.  In fact, you will absolutely LOVE the taste!  This jelly would be wonderful served as a dessert with ice cream, pudding, or cream.  It can also be served as an unusual accompaniment to meats, such as lamb or poultry. How about serving it over brie cheese as a wonderful appetizer?  Let your imagination be your guide!

Perada Jelly
Long considered a delicacy in Iberian and Latin cultures,  Perada is nicely paired with cheeses such as Manchego.  Perada is great served on a cheese platter.

Raspberry Jam
It's that time of year again – Raspberry season!  What better way to preserve the flavor of raspberries than making homemade raspberry jam?  It's called preserving summer in a jar.  My family loves this treat during the winter.  This was my daughters, Brenda Weller and Nancy Hartman, first time experience making homemade jam.  They did a great job, plus they took the time to make the informative video tutorial.
Comments and Reviews