This is the Absolute Best Light Caesar Salad Recipe – you will love it!
No coddled eggs are used, as mayonnaise contains eggs.  I promise you that your guests will never know the difference!  I make this delicious version all the time.  I also serve this Low-Fat Caesar Salad Dressing with Thanksgiving and Christmas dinners.  No one seem to know that I have reduced the fat and calories.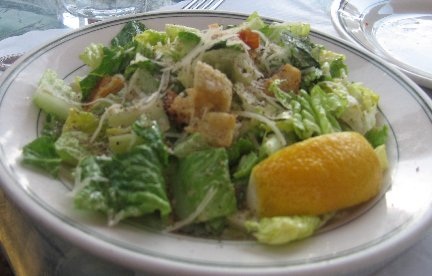 For more great Low Fat Recipes, Low Calorie Recipes, Low Carbohydrate recipes, and Diabetic  Recipes, check out my Diet Recipe Index.  Also check out my Nutritional Chart for fat grams, fiber grams, and calories for all your favorite foods.
Check out Linda's wonderful Salad and Salad Dressing Recipes.
Absolute Best Light Caesar Salad Recipe:
Keyword:
Absolute Best Light Caesar Salad Recipe
Ingredients
1 to 2

cloves

garlic

with inner green germ removed, finely chopped or minced

2 to 3

anchovy

fillet, mashed*

Pinch of

coarse salt
Juice

of one lemon**

3

drops

Worcestershire sauce 

1/2

cup

mayonnaise

(light or low-fat)***

2 to 3

tablespoons

water

(to achieve desired thickness)

4 to 5

heads

Romaine lettuce,

hearts and tender leaves only****

1/2 to 3/4

cup

croutons

2

tablespoons (1/4 cup)

Parmesan Cheese

(Parmigiano Reggiano), freshly grated and divided
Instructions
Prepare the Romaine Lettuce: Romaine lettuce should be prepared ahead of time and refrigerated until ready to use as they are best well chilled. Lettuce may be prepped up to 24 hours ahead, then covered with a paper towel and plastic wrap and refrigerated.

Separate the Romaine leaves and discard the coarse outer leaves. I also like to remove the woody rib from from the Romaine leaves by tearing away the outer leaves from the ribs.

Wash the romaine lettuce and dry thoroughly with a salad spinner or paper towels; wrap or roll the washed and dried leaves in a clean dish towel and then place in the refrigerator until ready to use. This will give you wonderfully crisp Romaine leaves.

Prepare the Dressing: In a bowl, whisk together the garlic, anchovy, and salt until blended. Whisk in the lemon juice, Worcestershire sauce, mayonnaise, and water. When the dressing is well combined and to the desired thickness you wish, whisk in 2 tablespoons freshly-grated Parmesan cheese. Store in the refrigerator and let come to room temperature before serving.

How to assemble Caesar Salad: When ready to prepare the Caesar Salad, tear chilled Romaine leaves into bite-size pieces.

In a large wooden salad bowl, add 1/3 of the prepared Low-Fat Caesar Salad Dressing and toss with the croutons until well coated.

Add the Romaine lettuce pieces and the remaining dressing; toss until coated. Sprinkle the top with the freshly-grated Parmesan Cheese.

Recipe makes 6 to 8 servings.
Recipe Notes
* Use only good-quality Spanish or Portuguese anchovies in your dressing.  Feel free to add additional anchovies to your tastes.  If desired, anchovy paste may be substituted (approximately two inches squeezed from the tube will provide the equivalent taste of one anchovy fillet).
** Fresh lemon juice is essential.  Some chefs squeeze the lemon through a cheesecloth to ensure that only the juice ends up in the salad.  If you are careful to keep the lemon seeds out of the salad, a simple squeeze will do.  Sometimes I add more lemon juice.  Taste to adjust.
*** You can cut the fat even more if you use fat-free mayonnaise.  I personally like using the light or reduced fat mayo.
****  You will need about 3/4 of a head of romaine lettuce per person, since only the tender, crisp inner leaves are used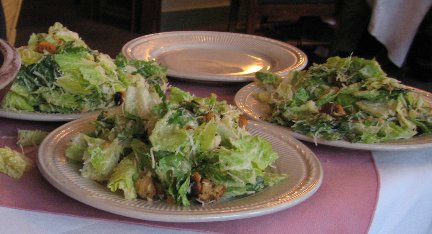 Comments and Reviews