Lynne says, "A melon salad is not a typical opening to a meal in Italy.  I certainly didn't expect it when I Stayed at Le Frise, a guest farm in the mountains of northern Lombardy.  Emma dresses chunks of melon with black pepper, vinegar and olive oil.  She presents the melon on a bed of pale green curly endive and snips dark green chives over the salad at the last moment."
Note from Linda:  This Cantaloupe with Black Pepper Salad is a fantastic salad to serve your family and friends.  Everyone loves it and it is so easy to make!
Recipe from the cookbook The Italian Country Table by Lynne Rossetto Kasper.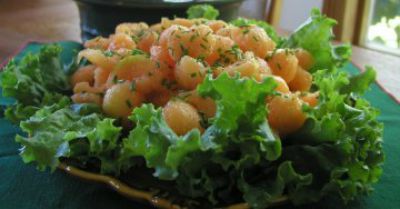 For more great Low Fat Recipes, Low Calorie Recipes, Low Carbohydrate recipes, and Diabetic Recipes, check out my Diet Recipe Index.  Also check out my Nutritional Chart for fat grams, carbohydrate grams, and calories for all your favorite foods.
More wonderful Salads and Salad Dressing Recipes.
Please check out my Grilled Balsamic Chicken and Peaches dinner menu and Outdoor Smoked Salmon Dinner Menu which includes this wonderful Cantaloupe with Black Pepper, Oil, and Vinegar recipe.
Cantaloupe with Black Pepper Salad Recipe (Instalata di Melone):
Keyword:
Cantaloupe with Black Pepper Salad Recipe, Insalata di Melone Recipe
Ingredients
Half of a 2 1/2 to 3 pound ripe

cantaloupe,

seeds removed

Several

pale green leaves from the center of a head of

curly endive

Coarse salt

and freshly-ground black pepper

2

teaspoons fruity

olive oil,

extra-virgin

2

teaspoons

white wine vinegar

2

teaspoons

chives,

snipped or scallion tops
Instructions
With a melon baller, scoop out 1-inch balls (or cut with knife into bite-size pieces) from the cantaloupe and place into a medium-size bowl.

Line an 8-inch serving plate with the endive greens.

Sprinkle the cantaloupe balls with salt and black pepper to taste. Gently toss with the olive oil, then the wine vinegar.

Spoon the cantaloupe mixture onto the prepared endive greens, scatter the chives over the melon, and serve.

Per Serving -1.8 Fat grams, 5 Carbohydrate grams, 29 calories, 1 WW points
Comments and Reviews