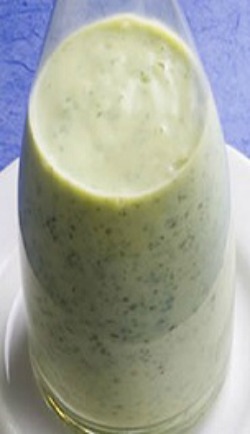 Green Goddess Salad Dressing is like a favorite little black dress – it never goes out of style and works to serve with many different foods.
This is a slight adaptation, but a very delicious version, of the original version of the Green Goddess Salad Dressing.  Today, there are many version of this delicious salad dressing.  Green Goddess Salad Dressing also makes an excellent dip to serve with your favorite vegetables and also a spread for your sandwiches.  One of my favorite ways to enjoy this fantastic dressing, is to serve with steamed artichokes.  I also like to serve this dressing on top of a chilled lettuce wedge.  So good!
History:  The Green Goddess Salad Dressing was created at San Francisco's Palace Hotel (now called the Sheraton-Palace) in the 1920s.  The Palace Hotel was built in 1875 and was San Francisco's first grant lodging hotel.  The Palace Hotel was considered the largest hotel in the western United States for many years.
The hotel's executive chef, Philip Roemer, named the dressing for English actor George Arliss (1868-1846), who stayed at the hotel and also ate in the Palm Court restaurant during the time he performed in the play called The Green Goddess.  This play was considered the best play of the 1920-21 Broadway season and it later became on the earliest "talkie" movies in 1930.  The actor frequently complemented San Francisco's marvelous weather and proclaimed that it induced a healthy appetite.
Check out Linda's Salad and Salad Dressing Recipes.
Green Goddess Salad Dressing Recipe:
Keyword:
Green Goddess Salad Dressing Recipe
Ingredients
1

cup

mayonnaise

(good quality)*

1/2

cup

sour cream

1/4

cup

chives,

snipped or scallions (green onions), minced

1/4

cup fresh

parsley,

minced

1/4

cup fresh

tarragon,

minced

1

tablespoon

lemon juice,

fresh-squeezed

1

tablespoon

white wine vinegar

3

anchovy

fillet, rinsed, patted dry, and minced**

Coarse salt

and freshly-ground pepper to taste
Instructions
In a food processor or blender, blend mayonnaise, sour cream, chive or scallions, parsley, tarragon, lemon juice, wine vinegar, minced anchovy fillets, salt, and pepper. Blend until combined and the dressing is a lovely shade of green.

Prepare and refrigerate the dressing at least 1 hour before serving to allow the flavors to mellow.

Green Goddess Dressing is best served the day it is made. I recommend that you store the dressing in the refrigerator not more than 24 hours for best flavor. That being said, the dressing will keep for up to a week.

Traditioally, the salad should be tossed in a wooden bowl, which is rubbed with garlic before the greens and dressing are added; giving just a fresh hint of garlic.

The salad is traditionally served on shredded iceberg lettuce with a choice of chicken, shrimp, or crab. Another popular way to serve this dressing is with Iceberg lettuce wedges.

Yields approximately 2 cups.

Serving size approximately 2 1/2 tablespoons. 
Recipe Notes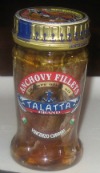 * Learn easy it is to make your own Homemade Mayonnaise.
NOTE: If you want to cut some calories in this recipe, substitute light mayonnaise or yogurt and light sour cream.
** Use only good-quality Spanish or Portuguese anchovies in your dressing.  Anchovy paste may be substituted (approximately two inches squeezed from the tube will provide the equivalent taste of one anchovy fillet).  More, or even less, anchovy fillets may be added according to your personal taste.  
Comments and Reviews