My all-time favorite salad is the Caesar Salad.  To many, including myself, this is the king of salads.  When I first was introduced to Kale Caesar Salad, I was very surprised at how delicious it was.  This recipe is my version of this salad using my fantastic low-fat Caesar Salad Dressing.
Did you know that kale is considered the new spinach?  Raw kale takes the place of the traditional romaine lettuce and partners with my delicious low-fat Caesar Dressing.  Raw kale is surprisingly un-bitter, especially if you buy it fresh from the farmers market.  This salad tastes healthy and hearty at the same time – plus it is delicious!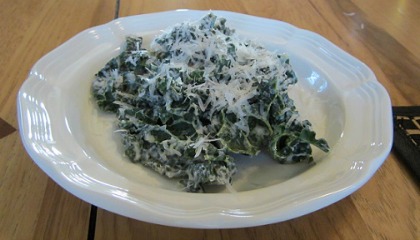 For more great Low Fat Recipes, Low Calorie Recipes, Low Carbohydrate recipes, and Diabetic Recipes, check out my Diet Recipe Index.  Also check out my Nutritional Chart for fat grams, fiber grams, and calories for all your favorite foods.
Kale Caesar Salad Recipe
Keyword:
Kale Caesar Salad Recipe
Servings
:
6
servings (depending on size of servings)
Ingredients
1 to 2

cloves

garlic

(with inner green germ removed - the sprouts add an unpleasant bitterness), finely chopped or minced

1 to 2

anchovy

fillets, mashed*

Pinch of

coarse salt

3

drops

Worcestershire sauce

1/2

cup

mayonnaise

(low-fat or light)

2 to 3

tablespoons

water

(to achieve desired thickness)

4

tablespoons (1/4 cup)

Parmesan Cheese

(Parmigiano-Reggiano), divided

1

pound (about 2 bunches) Tuscan

Kale

leaves, tought stems removed and leaved roughly chopped***

Black pepper,

coarsely ground

1/2 to 3/4

cup

salad croutons

(your choice)
Instructions
To make dressing: In a bowl, whisk together the garlic, anchovy, and salt until blended. Whisk in the lemon juice, Worcestershire sauce, mayonnaise, and water. When the dressing is well combined and to the desired thickness you wish, whisk in 2 tablespoons freshly-grated Parmesan cheese. Refrigerate until ready to serve.

Kale leaves: Wash, dry, and cut out the tough center ribs and stems. Chop or tear all the prepared kale leaves into bite-sized pieces and put them in a medium-sized mixing bowl. The center rib is edible, though fairly fibrous. The leaves can be eaten raw, sauteed until wilted, simmered with a soup, or even roasted until crisp (you can also freeze and save the stems to use in stir-fries, sauces, or soups).

To assemble salad: In a large salad bowl, add the kale pieces, croutons, and the dressing, a little at a time; toss until coated.

To serve: Divide the salad between individual salad plates and sprinkle each salad with the remaining Parmesan cheese and coarsely-ground pepper. Serve immediately.

Makes 6 medium-size Kale Caesar Salads.
Recipe Notes
* Use only good-quality Spanish or Portuguese anchovies in your dressing. Anchovy paste may be substituted (approximately two inches squeezed from the tube will provide the equivalent taste of one anchovy fillet).  To purchase Anchovies and Anchovy Paste, check out What's Cooking America's Kitchen Store.
** Fresh lemon juice is essential. Some chefs squeeze the lemon through a cheesecloth to ensure that only the juice ends up in the salad.  If you are careful to keep the lemon seeds out of the salad, a simple squeeze will do.  Sometimes I add more lemon juice.  Taste to adjust.
*** Tuscan kale - also called cavolo nero, Lacinato, black kale, or dinosaur kale have long, narrow, bumpy dark-green leaves.  You can find it at better supermarkets and at farmers' markets.  You may also use curly kale leaves and/or baby kale leaves.
More Delicious Dishes Using Kale:
Super-Food Kale Chopped Salad
This delicious and healthy kale chopped salad recipe is a great way to throw some super food veggies together and enjoy a satisfying crunchy salad.
Baked Kale Chips – Oven Roasted Kale Chips
Not a fan of kale?  Well, these crispy baked kale chips are sure to convert you.  They are a healthy alternate to potato chips and are perfect for snacking.
Zuppa Toscana Soup
Zuppa Toscana is a traditional Italian Tuscan soup that originated in Tuscany.  The Zuppa Toscana is sausage, bacon, and potato soup with greens.  This recipe very closely matches what the Olive Garden restaurant serves.
Herb-Crusted Halibut with Toasted Kale Chips
This is a quick and easy halibut recipe that also includes delicious roasted kale leaves.  Give it a try – you will not be disappointed!
Grits and Greens
This dish marries two Southern favorites in an unbelievable combination of color and flavor.
Comments and Reviews