Tasty, toasted Cuban Sandwiches are Miami's favorite snack.  The Cuban sandwich, also known as the cubano, is a popular meal in south Florida where many Cubans have settled since the early 20th century. These tasty, toasted Cuban sandwiches are definitely Tampa and Miami, Florida's favorite snack.  These treats can be found in most restaurants in these cities, but the best places to buy them are from the street corner-snack bars, called loncherias.
The key to a great, versus a good, Cuban Sandwich lies in the grilling.  A great Cuban sandwich is grilled in a sandwich press (called a plancha) until the ham, pork, and pickles have warmed in their own steam.  Cuban restaurants use a sandwich press, but you can substitute a waffle iron.
The traditional Cuban sandwich use no mayonnaise, lettuce, onions, bell peppers, or tomatoes; however, butter and mustard are optional.  In Ybor City, Florida, salami is added.  Cuban sandwiches are sold hot (pressed) or cold (room temperature).  The sandwiches have a submarine-style layering of ham, mojo roast pork, cheese, and pickle between a sliced length of Cuban bread.
Learn about the interesting History and Legends of the Cuban Sandwich.  More of Linda's great Sandwich Recipes.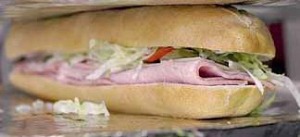 Cuban Sandwich Recipe:
Keyword:
Cuban Sandwich Recipe
Ingredients
1

loaf

Cuban bread*

Prepared

yellow mustard

1/2

pound

baked ham,

thinly sliced

1/2

pound

Mojo Roast Pork,

thinly sliced

8

thin

dill pickle

slices

1/2

pound

Swiss cheese,

thinly sliced
Instructions
Slice the bread horizontally (lengthwise) to open. Spread a thin layer of mustard on top and bottom halves of bread. Arrange ham, pork, pickle slices, and Swiss cheese evenly over the bread. Cover the sandwiches with the top halves of the bread. Cut into 4 sandwiches.

When ready to cook you Cuban Sandwich, spray your press (of choice( with cooking spray to prevent sticking.

Sandwich Press: Grill sandwiches in a hot buttered sandwich press until flat, bread is browned, and cheese has melted. Remove from heat; cut each sandwich in half and serve immediately.

Waffle Iron: Turn over metal plates to the flat surface. Place sandwich in hot buttered waffle iron, close cover, and grill for 3 minutes on each side.

Griddle or Frying Pan: Place sandwich on a hot griddle or frying pan, and position a heavy iron skillet or bacon press on top of the sandwich. Flatten the sandwich to about 1/4 of it original size. Grill the sandwich for 2 to 3 minutes on each side.

George Forman Grill: May also be used.

Optional: If you do not have a press, you can place the sandwich in a hot skillet on the stove, and then press the sandwich down with another frying pan. Some people use a brick wrapped in tin foil when nothing else is available.

When finished, your Cuban sandwich should be flattened down to less than half the original size.

Slice the sandwich diagonally across the middle, so that you have two triangle-shaped wedges.
Recipe Notes
* Italian or French bread may be substituted.
Comments and Reviews