In the Spring, when the young radishes are available, this Spring Radish Sandwiches is absolutely wonderful!  The radishes are like little jewels and are so sweet and crunchy.  I would never consider making this wonderful Spring Radish Sandwich in the winter unless they are freshly grown. This is another outstanding way to discover the to discover new and unusual ways to prepare and use tangy springtime radishes.  In fact, this is my favorite way to use radishes!
Spring Radish Sandwich is also a favorite appetizer that has appeared on European menus for decades.  Only four ordinary ingredients – bread, butter, salt, and radishes.  These ingredients become a gourmet delight when they are eaten together.  This is quite possibly the perfect reward, along with a glass of wine, for yourself and your guests. this Spring Radish Sandwich can also be served as a Tea Sandwich.
Growing radishes is easy and they may actually be planted in spring or fall, and in most locations, right through summer as well.  Radishes are available year-round, but are at their peak from April through July.  They come in a wide range of shapes, sizes, colors, and flavors.  They can be the size of a hazelnut or a carrot, and range in color from bold reds, pinks, and purples to white and black.
To learn about the history and legends of favorite sandwiches, check out the History of Sandwiches.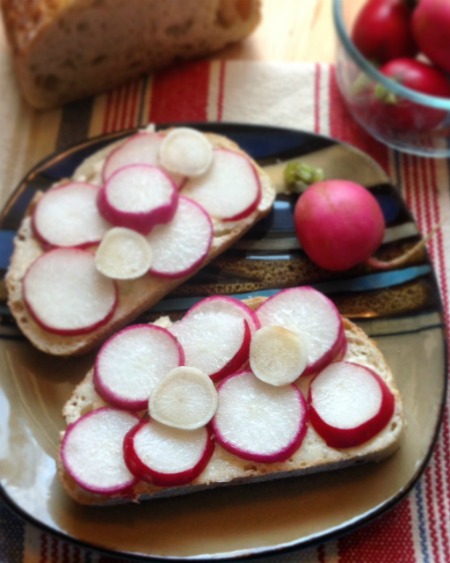 Spring Radish Sandwich Recipe:
Keyword:
Spring Radish Sandwich Recipe
Servings
:
24
small or sandwiches
Ingredients
Spring radishes,

thinly sliced*

16

slices

white bread

(best-quality)**

1/2

cup

unsalted butter,

room temperature
Instructions
Spread one side of each piece of bread lightly with butter.

Top the buttered side of the eight (8) slices of bread with the sliced radishes and top with the remaining bread slices, buttered side down.

Carefully cut the crusts from each sandwich with a long, sharp knife. Cut the sandwiches in half diagonally and then cut in half again.

Yields 8 whole sandwiches or 16 halves or 32 fourths.
Recipe Notes

* Vari-colored radishes may be used.  When shopping for radishes, look for firm roots and bright, un-wilted greens.  Stay away form radishes that look old as they can be pithy.
**  Choose the best-quality white or wheat bread as possible.  Never serve end slices. Freezing the bread before cutting and then spreading makes for easier handling.
Comments and Reviews