Italian Basil Pesto sauce originated in the city of Genova in the Liguria region of northwest Italy.  The word, pesto in Italian, is derived from a word meaning to "pound or crush".  Italian purists insist that pesto can only be made using locally-grown Genoese basil, a small-leafed variety with a delicate taste, and that it must be made using a pestle and mortar.  It is still considered to be the best way of preparing pesto at home although today very few persons do actually follow this process.
As I do not seem to have the time and energy to make pesto the old-fashion Italian way,  I use my food processor.  Making basil pesto this way is quicker and also tastes wonderful!   The good news is that pesto is very easy to make if you own a food processor or blender – it will take only a few minutes!  During the summer months, when I always seem to have an abundance of basil in my garden, I always make this delicious basil pesto.  This basil pesto will taste great with your pasta, on bread, pizza, toast, baked potatoes, etc.  It uses are endless!
Pesto will taste best if you make it the day before as this allows the flavors to blend.  Doing this will also take the 'edge' off the garlic flavor.  I usually make my pesto without exactly measuring the ingredients, but for the recipe below, I kept track of what I was doing for giving more exact proportions.  There are no strict rule for making pesto – just do what you like best!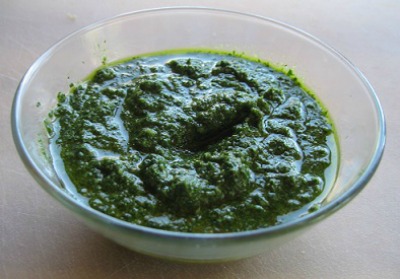 Italian Basil Pesto Recipe - Pesto alla Genovese:
Keyword:
Italian Basil Pesto Recipe, Pesto alla Genovese Recipe
Ingredients
3

tightly-packed cups fresh

basil

leaves (approximately 3 ounces)*

2 to 3

cloves

garlic,

peeled and minced

2

tablespoons

pine nuts,

toasted**

1/2

teaspoon

coarse salt

or sea salt to taste

1/2

teaspoon

lemon juice,

fresh-squeezed**

1/2

cup good quality

olive oil,

extra-virgin

1/3

cup

Parmesan Cheese

(Parmigiano-Reggiano), grated****
Instructions
Wash the basil leaves in cold water, discard the stems, and dry thoroughly on paper towels (do not rub the leaves). Also peel off any thick spines from any larger basil leaves. I use my salad spinner for washing and drying the basil leaves.


In a blender or food processor, add garlic, toasted pine nuts, and salt; process for approximately 15 seconds. Using a rubber spatula, scrape the mixture from the sides of the bowl. Add basil leaves, lemon juice, and olive oil, using the pulse technique, turning on and off, to shred the basil. A single batch works well in a blender, but use a food processor for larger batches.

Blend in the cheese. Now taste and see if you would like to add some more of any of the ingredients to your liking. For example, if you like your pesto to be thinner, add some extra virgin olive oil.

I made a double batch of Italian Basil Pesto.  I will probably double that amount in the next batch I make.  A double batch of pesto filled one (1) ice cube tray for freezing.

Makes 2 cups Italian Basil Pesto.
Storing Basil Pesto:

The pesto will keep for up to 4 to 6 weeks in a covered container in the refrigerator. Pour a thin film of olive oil on top of the pesto to prevent discoloration. Below are some ideas on how to store and freeze pesto:

Press plastic wrap against the surface of the pesto to minimize any exposure to air and subsequent browning. Refrigerate, tightly covered, for up to two weeks. Before using, leave at room temperature for about 15 minutes.

Spoon the pesto into a foil-lined custard cup; cover tightly with foil and freeze. Once frozen, remove the foil-wrapped packet and store in a freezer bag for up to 2 to 3 months. To use, thaw in the refrigerator overnight, or remove from the foil and thaw quickly in the microwave. Add Parmesan cheese just before serving.

To freeze in ice cube trays, line an ice cube tray with plastic wrap and fill with the pesto. Cover with another layer of plastic wrap and freeze. When the pesto is frozen solid, transfer to a freezer bag.
Recipe Notes
* Use the younger and smaller basil leaves for best flavor.
** Toast the pine nuts in a small heavy pot or frying pan over low heat, stirring frequently until golden, approximately 4 to 5 minutes (watch carefully as the pine nuts can burn easily).  I always toast more pine nuts that I need in this recipe and then freeze the extra ones for later batches of pesto.
*** The fresh lemon juice helps to keep the green color in the pesto.
**** Do not compromise on this ingredient and make sure is good-quality Parmigiano Reggiano cheese.
Ideas For Basil Pesto Uses:
Great with pasta, on bread, pizza, toast, baked potatoes, etc.
Rub under the skin of a whole chicken before roasting
Serve with grilled steaks or broiled fish
Stir into vegetable soups
Use in place of butter or mayonnaise on sandwiches
Use as a dip for vegetables.
You Might Also Like:
Basil, Lemon, and Macadamia Nut Pesto
If you grow basil in your garden or obtain it at a local Farmer's Market, make some homemade pesto.  It is far superior to the commercial type in the markets.
Sun-Dried Tomato, Basil, and Almond Nut Pesto
This is a very flavorful twist on pesto.  Great to use on pizza, vegetable tarts, pasta, sandwiches, in omelets, or add to Italian-style soups
Basil Pesto with Pistachio Nuts
This basil pesto is a little different in that I used pistachio nuts.  The flavor is bright and fresh for summer.  Use it with pasta, roasted chicken or lamb, on sandwiches, fresh veggies, pizza, and especially on your fresh vine-ripened garden tomatoes.
Comments and Reviews