Beef Au Jus (prounced oh-ZHOO) is a French term meaning "with juice."  The term is used to describe the serving of meat, most often prime rib roast, surrounded in or served with a container of the natural juices that were produced as drippings while the meat was being cooked.  It is not thick like a typical sauce or gravy.  No prime rib roast is complete without this perfect, but simple to make Au Jus.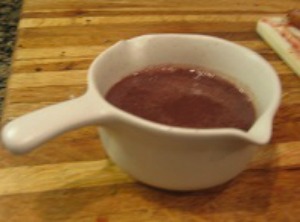 Learn how to prepare and cook The Perfect Prime Rib Roast.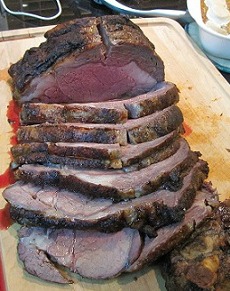 Check out my award-winning and popular Prime Rib Recipe Tutorial on cooking the perfect prime rib roast.  Learn how to purchase, prepare, and cook your perfect prime rib roast.  A Prime Rib Roast is also often referred to as Standing Rib Roast.  It is very tender, flavorful, and usually expensive.  You will not be sorry!
While the cooked prime rib roast is standing or resting for the required resting period, make the "au jus" sauce.
Making Au Jus is more of a technique and not a recipe.  You will have to do this by feel or guess work.  It depends on how much juice is left in your pan (plus the juice from slicing the prime rib roast), and how many people you will be serving.  Add your beef broth and/or wine according to how much Au Jus you think you will need for each person being served.  
I wish I could give you exact directions, but it is impossible to have an exact recipe for this.
Beef Au Jus Recipe:
Keyword:
Beef Au Jus Recipe
Ingredients
Beef juices

from cooked Prime Rib Roast

Beef broth

or stock*

Red wine

of your choice**
Instructions
Pour off all but 2 tablespoons of the fat (leaving the beef juices in the pan) from the roasting pan and discard the remaining fat (or reserve if making Yorkshire Pudding).

Place the roasting pan on two (2) burners on medium heat. Add the beef stock and stir and scrape the bottom of the pan to release any browned bits in the pan. Add red wine of your choice.

Bring mixture to a boil and cook until the stock is slightly reduced, about 5 minutes. Au jus is not thick like a typical sauce or gravy.

Season to taste with salt and pepper.

Transfer to a gravy boat or serve in small individual containers for each guest.

Use any left over Prime Rib and Au Jus for making French Dip Sandwiches for your family the next day. So good!
Recipe Notes
* The beef au jus will only be as good as your beef stock (and also the red wine you use), so it is recommended that you use homemade Beef Stock, if possible.  If you must use canned stock, buy the best you can find, but forget about using salty, artificially-flavored bouillon cubes.
** I like to add some of the same red wine that I will be serving with the meal.
Comments and Reviews