Bourbon Butter Sauce is so sinful – so rich and wonderful!  This Bourbon Butter Sauce is absolutely great on cakes and ice cream.
A splash of bourbon is a welcome addition to both sweet and savory sauces as it adds a slight punch and a touch of elegance.  What would New Orleans Bread Pudding be without the famous Bourbon Sauce?  This sauce is considered a signature southern dessert sauce and an American classic which gets its name from Bourbon County, Kentucky, where most bourbon is made.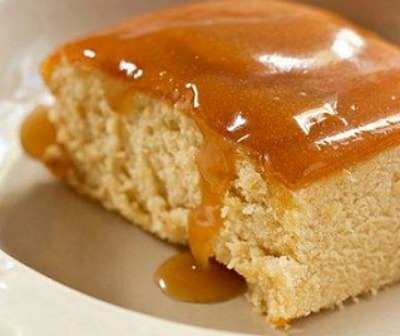 Bourbon Butter Sauce Recipe:
Keyword:
Bourbon Butter Sauce Recipe, Dessert Sauce Recipe
Instructions
In a small saucepan over medium-low heat, combine butter, sugar, bourbon, nutmeg, and water; stirring occasionally until bubbly around the edges. Remove from heat.

Off the heat, blend beaten egg into hot butter mixture.

Return to heat; bring to a boil over low heat, stirring constantly. Cook 1 to 2 minutes or until thickened enough to coat the back of a spoon. Do not allow the mixture to simmer as the sauce will curdle. The Bourbon Butter Sauce should be soft, creamy, and smooth.

Remove from heat and serve warm.

NOTE: If made in advance, whisk and reheat before serving.

Makes enough for 6 servings.
Recipe Notes
* Use a good-quality bourbon.
Comments and Reviews