Grilled Shrimp with Lime are so tasty and are an easy-to-make dish.  The lime/garlic adds a zesty flavor that makes this dish a standout.  This is truly a "finger-licking" food that is great for the grill on those hot summer evenings.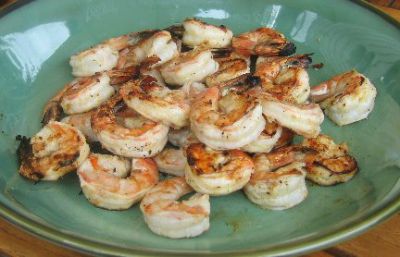 Check out my Appetizer Recipes for more great cooking ideas.
Also check out Purchasing, Deveining, Cooking, Brining, and Etiquette of Shrimp.
Grilled Shrimp with Lime Recipe:
Keyword:
Grilled Shrimp with Lime Recipe
Instructions
Preheat Barbecue (oil hot grill to help prevent sticking).

In the food processor, place minced garlic, salt, pepper, lime juice, and olive oil; blend until smooth and emulsified.

Peel and devein the shrimp, leaving the tails on. Place deveined shrimp in a large bowl. Toss shrimp with the lime marinade. NOTE: Do not leave the shrimp in the marinade for more than 15 minutes, as the texture of the shrimp will change. The lime juice will actually start cooking the shrimp.

After marinating the shrimp and ready to cook, place the marinated shrimp onto the hot grill and cook approximately 2 to 3 minutes (depending on size of the shrimp) on one side; turn and cook another 2 to 3 minutes or until shrimp are opaque in center (cut to test).

NOTE: Shrimp are very quick to cook, and the flavor can easily be ruined by overcooking. When they curl and turn pink, they are done. Properly cooked shrimp are firm with a gentle curve shape (like the letter "C").
Comments and Reviews