Trout Recipes – How To Cook Trout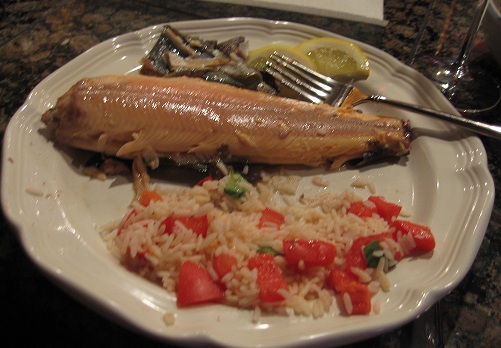 Baked Rainbow Trout
My husband came home from his fishing trip today with three (3) large Rainbow Trout.  These were large 12-ounce (without the heads) trout.  Too big to make Pan-Fried Trout, so I decided to oven bake them instead.  Actually I was glad because when my husband fries trout in the kitchen, he makes such a mess!   These baked trout were so good that my husband said we should always cook trout this way.  Bingo!
Grilled Cedar Plank Trout
This delicious Grilled Cedar Plank Trout recipe and photos were shared with my by Karen Calanchini, Food Stylist and Photographer, of Redding, CA.  Karen says, "Our wonderful neighbors shared this fresh-caught trout with us.  The cedar plank gives the trout a light smokiness with the meat so tender and moist."
Grilled Rainbow Trout – Trout Gilled in Aluminum Foil
My husband's favorite outdoor activity during the summer months is fishing – trout fishing.  This time I wrapped the cleaned trout in aluminum foil and cooked on our barbecue.  What an easy way to cook a large amount of whole trout – it is SUPER EASY and leaves no mess in the kitchen!  So good and the trout came out moist and melted in our mouths.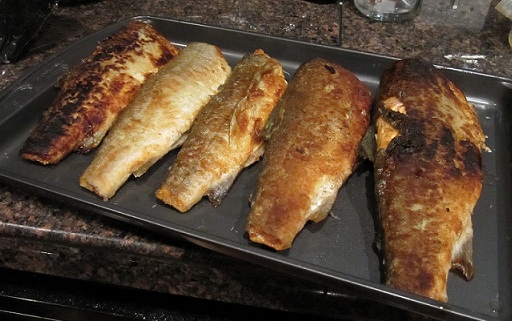 Pan-Fried Rainbow Trout – How To Clean Trout
This is my husband's, Don Stradley, recipe for freshly caught Rainbow Trout.  Very easy and very simple recipe – but very good!
Pecan Crusted Trout (Pescados Cortezudos de la Pacana)
This recipe is best when made with fresh mountain trout, but can also be made with any other white fish, such as cod, snapper, mahi mahi, or the multitude of others available in your market.
Rebecca's Gluten-Free Pan-Fried Trout
This wonderful fried trout recipe and photos were shared with me by Rebecca Wagner of Powell Butte, Oregon.  Rainbow trout are traditionally cooked and served with the skin on for added flavor.  This has to be the easiest and quickest way to cook a trout – plus it is gluten free!
Trout En Papillote
Chef John Folse is revered as one of the great American chefs from Louisiana.  His eight cookbooks, particularly the monumental Encyclopedia of Cajun & Creole Cuisine, spread the gospel of indigenous Louisiana cooking to the world.
Comments and Reviews