Beef Stew with Parsley Dumplings is a very nourishing and delicious stew to serve your family on cold winter nights.  The light dumplings are flecked with parsley and are a delicious contrast to the hearty stew.
Did you know – Before modern baking powders were available, fresh breadcrumbs were often used in puddings and dumplings to give a light texture.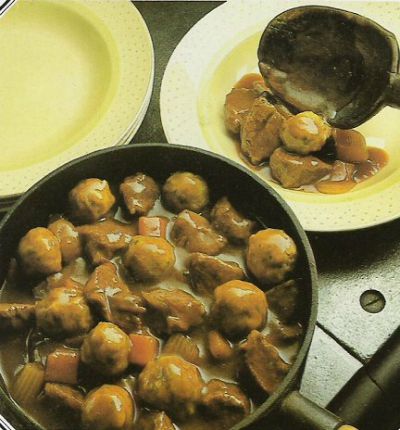 Beef Stew with Parsley Dumplings Recipe:
Keyword:
Beef Stew with Parsley Dumplings Recipe
Ingredients
Beef Stew:
2

pounds

Chin beef

or any other stewing meat*

3

tablespoons (1 1/2 ounces)

flour,

seasoned with salt and pepper

1/4

cup (2 ounces)

beef dripping

2

medium

onions,

chopped

2

cups (1 pint)

beef stock**

1

cup (1/2 pint)

apple cider

Pinch of

salt
Black pepper,

freshly-ground

1

cup (8 ounces)

carrots,

peeled and diced

1

cup (8 ounces)

turnips,

peeled and diced

2

sticks

celery,

cleaned and diced
Parsley Dumplings:
1/4

cup (2 ounces)

flour

(self-rising)***

1/4

cup (2 ounces) fresh

bread crumbs

****

2

tablespoons

suet,

shredded*****

1

tablespoon

parsley,

finely-chopped

2

teaspoons

lemon zest

(rind), finely-grated

Pinch of

salt

1

egg,

beaten
Instructions
Beef Stew with Parsley Dumplings Instructions:
Cut the meat into 1-inch cubes and toss in the seasoned flour.

In a large oven-proof soup pot (or cast-iron frying pan or Dutch oven) over medium-high heat, heat the beef dripping. Add the onions; saute until soft and transparent. Add the beef and fry until brown.

Stir in the beef stock and apple cider, scraping up any bits sticking to the pan; season with salt and pepper. Bring just to the boil; remove any white scum from the surface. Reduce heat to medium-low. Add the carrots, turnips, and celery, cover the pot and let simmer for approximately 2 hours or until the meat is tender. NOTE: You can also place your pot with the stew in the oven to cook. Cook at 325 degrees F.

Always cook stews at low temperatures; the surface of the liquid should barely move. When you simmer very gently, the fat melts out of rich meats and mingles with the liquid. The dish can then be chilled, and the fat easily skimmed of.

Make the Parsley Dumplings (see below). Drop the balls of dough onto the top of the stew, replace the lid, and cook for the last 15 to 20 minutes of cooking the stew. When done, the dumplings should be about doubled in size.

Ladle the stew and vegetables into a deep dish and surround with the dumplings. Serve immediately with hunks of crusty bread.

Makes enough stew for 6 people.

Parsley Dumplings Instructions:
In a large bowl, combine the flour, breadcrumbs, suet, parsley, and grated lemon zest (rind); mix together well with a fork or wooden spoon. Season with salt and pepper. Blend in the beaten egg.

Using a lightly floured hand, shape pieces of the dough into balls the size of large walnuts.
Recipe Notes
* Beef Shin - Also known as the shank.  This is a cut of beef taken from the lower leg of a steer.
** Learn how easy it is to make your own homemade Beef Stock.
*** To make your own self-rising flour, measure the desired amount of flour into a separate container.  For each cup of all-purpose flour used, add 1 1/2 teaspoons baking powder and 1/2 teaspoon of salt.  Mix to combine.
**** Check out Making Homemade Bread Crumbs
***** If you absolutely can not find suet, vegetable shortening may be substituted.  See Hints below.
HINTS:
A couple of tips for the dumplings, always use fresh breadcrumbs made using bread a couple of days old, cubed and done in the liquidiser.
They freeze well so I make a large batch, use what I want and freeze the rest.  They keep for the winter here, which is about 4 months.
If you can't find beef suet, ask your butcher for some.  Again, I buy about 2 pounds at a time.  Freeze enough for about 6 to 8 batches of dumplings and render the rest down in the oven and get beautiful clean dripping.
Source:  This recipe and photo are courtesy of Sue White of the United Kingdom.
Comments and Reviews