Tofu Walnut Meat Balls are great served either cold or warm, plus served with Tomato Sauce or Gravy.  You can throw these tofu meat balls into a typical tomato sauce and serve over pasta or as a side dish with your favorite gravy.  These vegan Tofu Walnut Meat Balls are a healthy, easy to make, versatile, and delicious.  They look like meat, but tastes even better.
Tofu Walnut Meat Balls' recipe and photos are courtesy of  Helen Fried of Hillsboro, Oregon.  She slightly adapted the recipe from the cookbook, 7 Secrets Cookbook by Neva and Jim Brackett.  Helen says, "We had our granddaughter's wedding reception in our yard, and she requested we serve these tofu meat balls.  We served them cold as finger food.  Our daughter's family is taking us on a hike for Father's Day and she is fixing a lunch to take along.  She said, "Mother, you can bring those good tofu walnut meat balls you make."  I doubled the recipe and will be taking them along – cold and as finger food.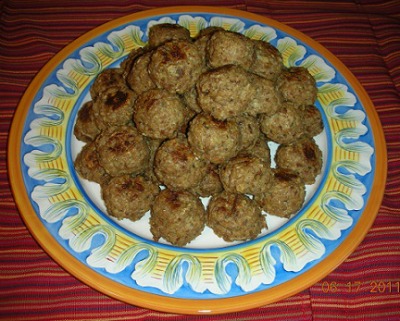 Check out the Nutritional Chart for fat grams, fiber grams, and calories for all your favorite foods.
Tofu Walnut Meat Balls Recipe:
Keyword:
Tofu Walnut Meat Balls Recipe
Ingredients
1/2

cup

onion,

finely diced or 1/4 cup dried onion flakes

4

cups soft

bread crumbs

(about 7 slices of bread)

1 1/2

cups

walnuts,

finely chopped

1

cup

quick-cooking oats

1

teaspoon

sage,

dried and crushed

1/2

teaspoon

garlic powder

1

teaspoon

onion powder

1

teaspoon

Vege-Sal

(Spike Brand Gourmet Natural Seasoning)

1

teaspoon

basil

leaves, dried and minced

1

tablespoon

McKay's Chicken Seasoning

(Vegan Special, McKay's chicken style instant broth and seasoning)

16-

ounces

brick tofu,

diced

1

cup

water

1/4

cup

Bragg Liquid Aminos

(better than soy sauce)*
Instructions
Preheat oven to 350 degrees F. Lightly oil a large baking pan.

In a non-stick or slightly-oiled frying pan, saute the onions until they being to soften but not turn color. Remove from heat and set aside.

In a blender or food processor, process the bread slices until they are soft bread crumbs. Place the onions, bread crumbs, walnuts, oats, sage, garlic powder, onion powder, Vege-Sal, basil, and McKay's Chicken Seasoning in a large mixing bowl; mix together and set aside.

In the blender, slowly blend together the diced tofu, water, and Bragg Liquid Aminos. Add additional small amounts of water if necessary. Add the prepared bread crumb mixture, mixing well. Note: The mixture will be quite moist.

Using a #70 scoop, form the mixture into small balls and place on the prepared baking pan.



Bake 30 minutes or until golden brown on top and bottom. Turn balls over after 15 minutes then continue baking an additional 15 minutes.

Remove from oven and serve.

These "meatballs" freeze nicely. The recipe can easily be cut in half, but I make a large batch to freeze.

Makes 20 servings at 4 balls per serving. I like the large recipe to have some for freezing.
Recipe Notes
* Bragg Liquid Aminos is a natural soy sauce alternative.
Comments and Reviews