Please do not throw away those fresh beet greens when cooking fresh beets.  The greens and the stems are edible, and make a great substitute for any greens such as spinach, swiss chard, and bok choy.  Cook them and enjoy a delicious and nutritious dish just like your grandparents grew up with.  This is a very simple and definitely delicious recipe that will help you make the most of your fresh beets greens.  In fact, my husband says it is the only way to cook and eat them!
Beet greens contain a large amount of vitamins A and K, plus anti-oxidants Beta Carotene and Lutein, plus these greens can also be substituted in any recipe that calls for spinach.
More delicious Beet Recipes.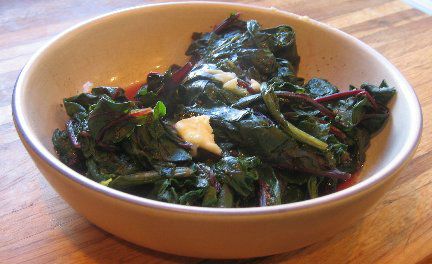 Cooking Perfect Beet Greens Recipe:
Keyword:
Cooking Perfect Beet Greens Recipe
Instructions
Wash the fresh beet green in a sink filled with cold water. Place cleaned and wet beet greens in a colander to let some of the water drain off. NOTE: You want the leaves to be wet.

Place washed beet greens in a large pot. There is no need to add additional water as the rinsed leaves will provide adequate moisture.

Cook, covered, over medium heat until the greens look wilted, approximately 3 to 5 minutes. Beet greens cook quickly, so take care not to overcook them.

Beet greens will cook down quite a lot (just like fresh spinach leaves).

When cooked, remove cooked beet greens to your serving bowl. Season with some butter, salt, and pepper to your liking.

Photo of my husband, Don Stradley, eating cooked beet greens.
Yes, we are University of Oregon football fans! My son was on the football team during his college days.
Comments and Reviews