The savory-sweet flavors of this Delicata Squash with Rosemary, Sage, and Cider Glaze is amazing!   I know that you and your family or friends will really enjoy this winter squash dish.  When most of the liquid boils away, the cider forms a tart-sweet glaze around the squash.  This is another one of my favorite ways to cook Delicata squash – so do not hesitate to make this wonderful Delicata Squash with Rosemary, Sage, and Cider Glaze.
Other varieties of winter squash, like acorn, turban, or kabocha squash, will make good substitutes, but they may not hold their shape quite as well through the braising process.
Delicata Squash with Rosemary, Sage, and Cider Glaze Recipe:
Keyword:
Delicata Squash with Rosemary, Sage, and Cider Glaze Recipe
Ingredients
2

medium

delicata squash

or other firm winter squash (such as kabocha) about 2 pounds*

3

tablespoons

unsalted butter

1/4

cup

sage

leaves, fresh and very coarsely chopped

1

tablespoon

rosemary

leaves, fresh and coarsely chopped

1 1/2

cups

apple cider,

unfiltered or apple juice

1

cup

water

2

teaspoons

sherry vinegar

1

teaspoon

salt
Black pepper,

freshly-ground, to taste
Instructions
Peel delicata squash with a vegetable peeler, cut it lengthwise in half, and scrape out the seeds with a spoon. Cut each piece lengthwise in half again, then crosswise into 1/2-inch-thick slices.

Melt the butter in a large frying pan over low heat. Add the sage and rosemary and cook, stirring until the butter just begins to turn golden brown, approximately 3 to 5 minutes. NOTE: Do not brown the herbs. Cooking the herbs in butter mellows their flavor and improves their texture.

Add the squash to the frying pan. then the apple cider, water, sherry vinegar, and salt. Cook, stirring occasionally, over medium heat at an even boil until the cider has boiled down to a glaze and the squash is tender, approximately 20 to 30 minutes.

Remove from heat. Season with additional pepper and salt if needed.
Recipe Notes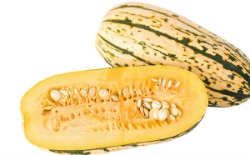 * Delicata Squash is also known as Peanut squash and Bohemian squash.  This is one of the tastier winter squashes, with creamy pulp that tastes a bit like corn and sweet potatoes.  Size may range from 5 to 10 inches in length.  The squash can be baked or steamed.  The thin skin is also edible.  
Choose squash that have a hard, deep-colored rind free of blemishes or moldy spots.  Tender skin indicates immaturity or poor quality as the hard skin protects the flesh and allows it to store longer than summer squash.  Store Delicata Squash in a cool, preferably dark, well-ventilated area for up to one month.  Photo courtesy of Modern Farmer.
Comments and Reviews