Roasted garlic has the best flavor. When you blend it with goat cheese and tomatoes, you will getthese wonderful Goat Cheese Tomato Tarts. This recipe also calls for a blend of herbs that make the tarts especially savory. I like to grow my own herbs, such as thyme and basil. If you do grow your own herbs, harvest them throughout the summer before they flower. Dry them and put them in airtight storage containers that you can store in your freezer. You will have garden herbs all winter long for recipes such as these yummy tarts.
Another plus for this goat cheese tomato tart recipe, it calls for the use of puff pastry dough that you purchase at the store. Puff Pastry is a light, flaky pastry made by layering butter or shortening and pastry dough. The dough is rolled out, and folded over and over. This process of rolling and folding builds many layers in the pastry dough. The layers create steam when baked, which result in them separating or "Puffing". The puff pastry comes in sheets of ready to bake dough that you can mold or lay flat to stuff with your favorite things. When using the pre-made dough it saves you time so that you can whip up this appetizer quickly and easily. The goat cheese tomato tarts will look impressive too.
Check out my recipe for Roasted Garlic.
Goat Cheese Tomato Tart with Roasted Garlic Recipe:
Keyword:
Goat Cheese Tomato Tart with Roasted Garlic Recipe
Ingredients
3

large

tomatoes,

evenly sliced into 1/4-inch thick slices

1

Phyllo (Fillo) Pastry Sheet,

thawed according to the package directions

1

head

garlic,

roasted*

1/2

cup

olive oil,

extra-virgin

5

ounces

goat cheese,

softened

1/2

teaspoon

thyme

leaves, freshly chopped

1

teaspoon

chives,

chopped

Kalamata olives,

pitted and halved

Aged

Balsamic Vinegar,

(good-quality)

Parmesan cheese,

grated
Instructions
Preheat oven to 400 degrees F.

To remove excess moisture from the tomatoes, place the tomatoes slices in an even layer on baking sheets lined with several layers of paper towels or kitchen towels. Season the tomatoes with salt. Allow the slices to drain in the refrigerator for 2 to 3 hours.

On a lightly floured surface, roll out sheet of puff pastry 1/8-inch thick. Cut into a round, and place on parchment paper on a cookie sheet. Prick holes in the center of the puff pastry with a fork, leaving a 1-inch border.

Mix roasted garlic with olive oil until a paste is formed. A dd goat cheese, chopped thyme, and chives. Season to taste with salt and pepper to taste; mix thoroughly.

Spread goat cheese over puff pastry, leaving same 1-inch border. Arrange tomatoes in overlapping circles over goat cheese, covering the surface and tucking a slice in the center. Sprinkle olives, balsamic vinegar, and parmesan cheese over the top

Fold the edges of the puff pastry over to barely overlap the tomato filling to create a crust.

Cook for approximately 20 to 25 minutes. Remove from oven and top with chopped basil leaves.Either serve hot to let cool to room temperature.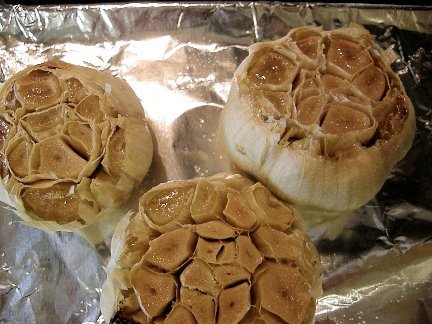 Comments and Reviews