Roasted Asparagus Parmigiano is my favorite way to prepare and serve fresh Spring asparagus when it is in season.  This technique of cooking asparagus makes a wonderful presentation, plus it is so simple and easy to make and so good!  Your kitchen will smell fabulous – just like you had a pizza in your oven.
Asparagus is my yearly classic Spring treat!  When the fresh asparagus is in season, the taste is the absolute best when cooked properly.  The combination of balsamic vinegar and Parmesan cheese enhances the flavors of naturally delicious asparagus.  The Roasted Asparagus Parmigiano comes out tender and crisp, just the way it should be cooked.
How To Select and Purchase Asparagus:  Select bright green asparagus with closed, compact, and firm tips.  Also look for cut ends that are not dry.  Select asparagus stalks that are about the same thickness so cooking will be uniform.  Thickness does not influence quality.  If the tips are slightly wilted, freshen them up by soaking them in cold water.
Even my grade-school-age grandsons love this roasted asparagus recipe!  They always ask me to make my asparagus for them.  So, this is a kid friendly recipe! What more can you ask for?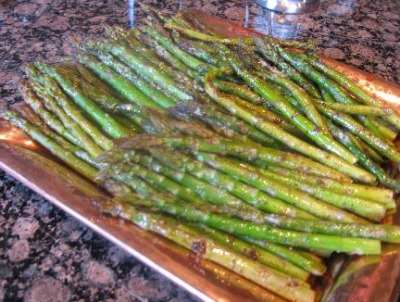 Check out How to Select, Store, and Cook Asparagus.  More great Asparagus Recipes.
Please check out my Cabernet Filet Mignon dinner menu and Grilled Rack of Lamb with Pinot Noir Marinade dinner menu which includes this fabulous Roasted Asparagus Parmigiano.
Roasted Asparagus Parmigiano Recipe:
Keyword:
Roasted Asparagus Parmigiano Recipe
Servings
:
4
to 6 servings
Instructions
Snap or cut off the tough ends of the asparagus. Arrange asparagus in a single layer in a shallow baking pan.

Make marinade by combining olive oil, wine, balsamic vinegar, garlic, herbs de Provence, salt, and pepper. Pour marinade over asparagus, turning to coat. Let marinate for 2 to 3 hours.

Preheat oven to 400 degrees F.

When ready to bake, sprinkle Parmigiano-Reggiano cheese over the top of the asparagus.

Bake approximately 8 to 10 minutes (depending on thickness of the asparagus stalks) or until lightly browned.

Remove from oven and transfer asparagus to a serving platter. Garnish with lemon wedges.
Comments and Reviews