Oven Baking – Microwave Cooking – Instant Pot Pressure Cooking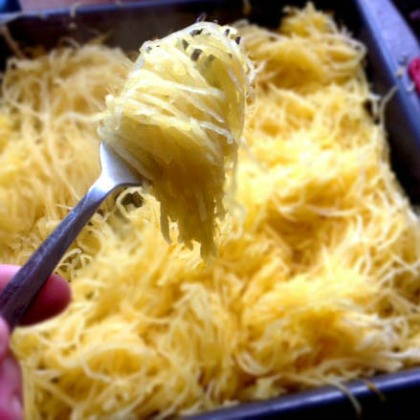 You have a choice on how to cook your Spaghetti Squash, as it is very easy to either bake, microwave or pressure cook. 
Oven Baking:  Baking spaghetti squash in the oven takes longer, but the flavors of the squash develop a bit more than when cooked in the microwave. This is an easy way to cook – just bake it whole or cut in half lengthwise before baking!  Bake approximately 40 to 45 minutes.
Microwave Cooking:  Microwaving is a time saver as it only takes 15 minutes in the microwave.
Instant Pot Pressure Cooking: Pressure cooking is another time saving option cooking the squash within 15 minutes.
Spaghetti squash, also known as vegetable spaghetti, is a delicious, healthy, and so easy to cook.  If you have never cooked and tasted Spaghetti Squash before – now is the time to give it a try!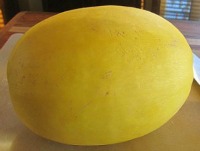 What is Spaghetti Squash?   Spaghetti Squash is a small, watermelon-shaped variety, ranges in size from 2 to 5 pounds or more.  It has a golden-yellow, oval rind and a mild, nut-like flavor.  The yellowest squash will be the ripest and best to eat.  Those that are nearly white are not very ripe.  Actually, larger squash are more flavorful than smaller ones.  When cooked, the flesh separates in strands that resemble spaghetti pasta.  Spaghetti Squash can be stored at room temperature for about a month.  After cutting, wrap in plastic wrap and refrigerate up to 2 days.  This type of squash also freezes well.
Spaghetti squash is a great low carb and gluten free substitute to replace pasta or rice in recipe dishes.  The cooked flesh of the Squash shreds into threads like thin spaghetti pasta or vermicelli.  Cut a baked Spaghetti Squash open and you will see a whole dish of pasta!  These squash noodles can be used interchangeably with regular noodles in your favorite pasta dishes.
Check out my favorite dishes using spaghetti squash noodles:  Broccoli Chicken Spaghetti Squash and Spaghetti Squash with Italian Meat Sauce.  Your family will love these fantastic dishes.

---
Oven Baking Spaghetti Squash:
Preheat oven to 375 degrees F.
Use one medium-size Spaghetti Squash.  Using a sharp knife, cut squash in half lengthwise.  Scoop out the seeds and discard.
Place the squash halves (cut-side down) in a shallow baking dish or pan and add approximately 1/4-inch of water around the squash.
Whole Squash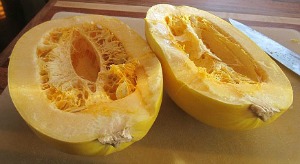 Cut in Halve
Seeds Removed
Ready To Bake
Bake approximately 40 to 45 minutes or until a paring knife or fork pierces easily through the skin with little resistance.  Total baking time depends on the size of your squash.
Remove from oven and let the squash halves cool for 10 to 15 minutes or until you can easily handle them.
Cook Spaghetti Squash in Microwave:
Use one medium-size Spaghetti Squash.  Use a sharp knife to pierce the squash (all the way to center) in a few places to allow steam out when cooking.
Microwave for 5 minutes on high 100% setting; rotate 180 degrees and microwave for another 5 minutes until squash shell is soft to the touch.  Remove from microwave and let rest for 5 minutes to allow squash to finish cooking inside.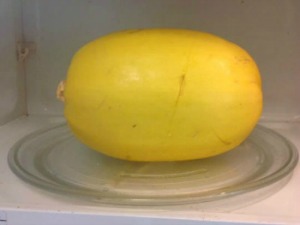 Ready To Microwave
Using a sharp knife, cut each end off of the squash.  Next cut the squash in half lengthwise.  Allow the squash to cool for a couple minutes.  Use a spoon to scoop out the seeds.  Discard the seeds.
Ready To Remove Seeds
Instant Pot Pressure Cooker Spaghetti Squash: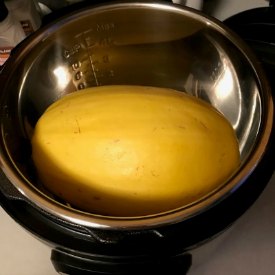 Use one medium-sized Spaghetti Squash.  Use a sharp knife to pierce the squash (all the way to center) in a few places to allow steam out when cooking.
Note:  Small to medium-size Spaghetti Squash fit best in the 6 quart pressure cooker pots.  If you have a large squash you can cut off the ends so the squash will fit inside or cut the squash in half crosswise down the middle and stack them cut side up in the pot.
Add 1 cup of water into in pressure cooker inner pot, then set prepared spaghetti squash inside pot.
Cover with lid and turn to close to seal the lid.
Make sure the Pressure Valve is also closed (handle turned to Sealing) to lock in the steam while cooking.

Select Manual cooking setting and High Pressure. Adjust cooking time to 15 minutes.
When the cooking time is finished, open the pressure valve to Quick Release the steam. When all the pressure has been released, the lid can be opened.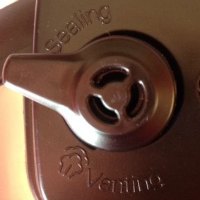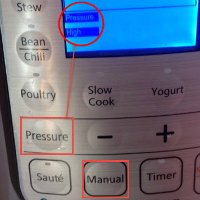 Let the squash cool for a few minutes before removing from the pot.  Cut the spaghetti squash in half cross wise and use a spoon to scoop out the seeds.  Discard the seeds.
This is the type of pressure cooker that I prefer to use in my cooking: I get readers asking which electric pressure cooker brand I prefer to use for cooking. I personally use the Instant Pot Multi-Use Pressure Cooker. I love having 7 cooking functions in one space saving appliance – Pressure Cooker, Slow Cooker, Rice Cooker, Saute Pan, Steamer, Yogurt Maker and Warmer.
Learn more tips on How to Use an Instant Pot Pressure Cooker.


---
Removing the strands of cooked Spaghetti Squash:
Using a fork, gently scrape the tines or the fork around the inside edge of the Squash to shred the pulp into strands.  Rake your fork in the same direction as the strands to make the longest noodles.  Place the strands (spaghetti-like ribbons) in a bowl.
If the squash seems difficult to scrape, just return to the oven and bake and additional 10 minutes.
Serve the shredded squash immediately, tossed with a little butter or olive oil or use in your favorite recipe.
Spaghetti squash strands (noodles) will also keep refrigerated for up to a week or frozen for up to 3 months.
Comments and Reviews