Spaghetti Squash with Italian Meat Sauce is a great alternative to pasta when on a diet, as it is low in calories and gluten free.  I have made this  dish many times and it is also a hit with my family.  The cooked flesh of the Spaghetti Squash shreds into threads like thin spaghetti pasta or vermicelli.  Cut a baked Spaghetti Squash open and you will see a whole dish of pasta!  Since Spaghetti Squash has a mild flavor, it is usually used with some kind of sauce, but my husband and I also enjoy the squash with just a little butter and some salt and pepper.  Give Spaghetti Squash with Meat Sauce a try!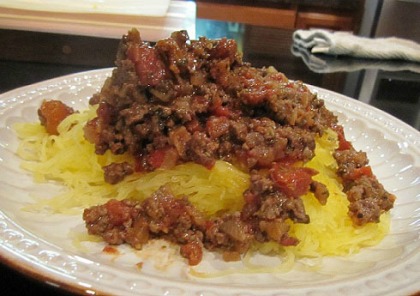 Check out Linda's Pasta Hints and Tips and Pasta, Rice, and Main Dish Recipes.
Spaghetti Squash with Italian Meat Sauce Recipe:
Keyword:
Spaghetti Squash with Italian Meat Sauce Recipe
Ingredients
1

medium-size

Spaghetti Squash*

1

medium

onion,

diced

2 to 3

cloves

garlic,

minced

8

ounce

lean ground beef

(hamburger)*

1

(14.5-ounce) can

tomatoes,

crushed or diced

1/4

cup

red wine

1

cup

water

1

teaspoon

oregano,

dried

1

teaspoon

rosemary,

dried

1/4

teaspoon

dried red pepper flakes

Coarse salt

and freshly-ground black pepper to taste
Instructions
How to Prepare and Bake Spaghetti Squash:

You have a choice on how to cook your Spaghetti Squash, as it is very easy to either bake or microwave spaghetti squash.

Oven Baking: Baking spaghetti squash in the oven takes longer, but the flavors of the squash develop a bit more than when cooked in the microwave. This is an easy way to cook spaghetti squash – just bake it whole or cut in half lengthwise before baking! Bake approximately 40 to 45 minutes.

Microwave Baking: Microwaving is a time saver as it only takes 15 minutes in the microwave.

Using a fork, gently scrape the tines or the fork around the inside edge of the cooked Spaghetti Squash to shred the pulp into strands. Rake your fork in the same direction as the strands to make the longest noodles. Place the strands (spaghetti-like ribbons) in a bowl.

If the squash seems difficult to scrape, just return to the oven and bake and additional 10 minutes.

Spaghetti squash strands (noodles) will also keep refrigerated for up to a week or frozen for up to 3 months.

To Make Italian Meat Sauce:

Preheat oven to 375 degrees F.

In a large frying pan over medium-high heat, add the onion, garlic, and ground beef, cooking and stirring until the meat is browned and the onions are softened.

Add the tomatoes, red wine, water, oregano, rosemary, pepper flakes, salt, and pepper. Let simmer approximately 30 minutes, stirring occasionally, until the liquid has reduced to your liking.

Remove from heat and serve over the prepared Spaghetti Squash noodles.
Recipe Notes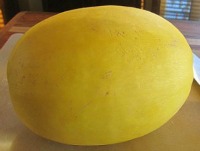 * What is Spaghetti Squash?  Spaghetti Squash is a small, watermelon-shaped variety, ranges in size from 2 to 5 pounds or more.  It has a golden-yellow, oval rind and a mild, nut-like flavor.  The yellowiest Spaghetti squash will be the ripest and best to eat.  Those that are nearly white are not very ripe.  Actually, larger spaghetti squash are more flavorful than smaller ones.  When cooked, the flesh separates in strands that resemble spaghetti pasta.  Spaghetti Squash can be stored at room temperature for about a month.  After cutting, wrap in plastic wrap and refrigerate up to 2 days.  Spaghetti squash also freezes well.
Comments and Reviews