Greek Dolmades
Stuffed Grape Leaves (Greek Dolmades) are often served as part of a meze (appetizer) plate.  Too often they come from a can and are not fresh.  Homemade Greek Dolmades are far superior to the canned ones.  These can either be a main dish or an appetizer, depending on your appetite.  These small bundles of rice wrapped in grape leaves are a favorite dish in Greece.
If you have never tried fresh Greek Dolmades, now is the time. They are very easy to make and so delicious!
Check out more Appetizer Recipes for more great appetizer ideas.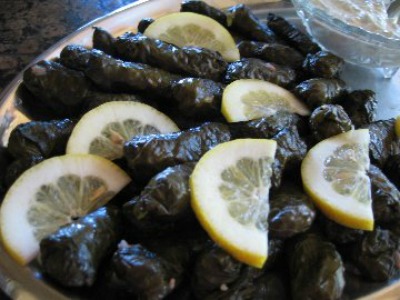 Stuffed Grape Leaves Recipe - Greek Dolmades:
Keyword:
Greek Dolmades Recipe, Stuffed Grape Leaves Recipe
Ingredients
Stuffed Grape Leaves:
1

(16-ounce) jar

Grape Leaves,

drained and rinsed*

2

cups

hot water

1/4

cup

olive oil,

extra-virgin

2

tablespoons

lemon juice,

freshly-squeezed

Lemon

wedges
Rice Stuffing:
3

tablespoons

currants

Warm water

2

tablespoons

raw pine nuts

1/2

cup

onion,

finely chopped

1

cup long-grain

white rice

1

tablespoon

sugar

(granulated)

1 1/2

teaspoons

ground cinnamon

2

cups

hot water

Juice

of 1 freshly-squeezed lemon

2

tablespoons fresh

dill weed

or fresh mint leaves, finely-chopped

2

tablespoons fresh

parsley

leaves, finely-chopped

Salt

and ground black pepper to taste
Instructions
Stuffed Grape Leaves Instructions:
Using a slotted spoon, remove the leaves from the water and lay them on paper towels to drain. With a sharp knife or scissors, cut out the protruding stems and any hard veins from the leaves. Set the grape leaves aside.

Preheat oven to 350 degrees F. Prepare Rice Stuffing (see recipe below).

To stuff the leaves, start with your largest leaves. Take a leaf and carefully spread it on a flat plate or pan with the veins facing upward to you (leaf shiny side down). If the leaf is torn or has a hole in it, take a reserved damaged leaf and use it as a patch, place the leaf over the hole.

Place approximately 1 to 2 tablespoons of the Rice Stuffing near the stem end of the leaf (the amount of stuffing will depend on the size of the leaves). Press the stuffing into a small sausage-like shape.

Fold the stem end of the leaf over the filling, then fold both sides toward the middle, and then roll up into a cigar shape (it should be snug but not overly tight because the rice will swell once it is fully cooked and could burst). The rolls should be cylindrical (about 2 inches long and 1/2 inch thick)

Squeeze lightly in the palm of your hand to secure the rolls. Repeat with the remaining grape leaves and filling.

Line the bottom of a large heavy oven-proof dish or pan with half of the remaining grape leaves (this prevent sticking and is also a good way to use any torn or small leaves).

Arrange the stuffed grape rolls on top of the leaves, seam-side down, packing them close together. Make a new layer as you fill the baking pan. Two or three layers is fine (it is very difficult to cook evenly if you make more than four layers of rolls). NOTE: Do not cramp the rolls together as they will nott cook well - also do not leave too much space between them as they will unravel.

When the bottom is completely covered, place the remaining grape leaves over the top. Pour the 2 cups hot water, olive oil, and lemon juice over them. Weigh the stuffed grapes rolls down with an ovenproof plate turned upside down (one smaller than the circumference of the pan). Cover the baking dish with a lid.

On the stovetop, over medium heat, bring the liquid just to a boil; remove baking dish to the preheated oven and cook approximately 45 to 60 minutes or until the grape rolls are tender and the water has been absorbed (there should be little or no trace of water, and only a bit of oil in the pot - some of the leaves may have tiny black specks, or maybe completely black - this is ok). Remove from oven.

Transfer the stuffed grape rolls to a serving dish. Cover with plastic wrap and refrigerate. Serve chilled or at room temperature, garnished with lemon wedges. Serve with Yogurt Cucumber Sauce.

NOTE: They keep about a week in the refrigerator. If you drain and chill them, you may want to pour a little olive oil and lemon juice over all to keep from drying out. For longer storage, the stuffed grape leaves rolls may also be frozen before cooking.


Rice Stuffing Instructions:
Soak currants in warm water for approximately 15 to 20 minutes; drain and set aside.

To make the stuffing, heat the olive oil in a medium saucepan over medium heat. Add pine nuts; stir and cook the pine nuts for about 2 minutes or until they are golden brown.

Add browned pine nuts, onion, white rice, sugar, cinnamon, and hot water; stir the mixture, cover the pot, and cook gently for approximately 15 to 20 minutes or until the water has been absorbed. Remove from heat and stir in the lemon juice, dill weed, and parsley.

Season to taste with salt and pepper. Let the stuffing cool for 30 to 40 minutes before stuffing the prepared grape leaves.
Yogurt-Cucumber Sauce Instructions:
In a bowl, combine yogurt, sour cream, cucumber, and dill weed.

Allow flavors to blend in the refrigerator 2 to 3 hours before serving.
Recipe Notes
* To use fresh grape leaves:  Grape leaves are best picked from grape vines in the Spring, while they are still tender.  Select young whole, medium leaves.  NOTE: Be sure and pick them before the first spray as some sprays are toxic. Most of the spays used today are non-toxic and water soluble, but sulfur taste is not what you want on your grapes.  Pick approximately 1 1/2 pounds of fresh leaves which are the same as one jar of preserved leaves.  Using scissors, cut off the stems and either soak in very hot water for 15 minutes to soften or blanch grape leaves until they are soft (the time will depend on the leaves - fresh ones will only take a minute).  They can be washed and frozen between layers of waxed paper or plastic wrap and will keep for a year.  Check out my article on Using Fresh Grape Leaves.
* Using bottled Grape Leaves:  To prepare bottled grape leaves, rinse well under cold water to remove the brine.  Place them in a colander (back side up) to drain and hold until ready to use.  NOTE: Do not throw away any torn or damaged leaves, as they can be used to patch holes in other leaves.
Comments and Reviews