Roasted Sugar Snap Peas with Fleur de Sel is so simple to make with only three ingredients in the recipe.  A very easy to make and delicious side dish to serve with any entree.
For more great Low Fat Recipes, Low Calorie Recipes, Low Carbohydrate recipes, and Diabetic Recipes, check out my Diet Recipe Index.  Also check out my Nutritional Chart or fat grams, fiber grams, and calories for all your favorite foods.
Roasted Sugar Snap Peas with Fleur de Sel Recipe:
Keyword:
Roasted Sugar Snap Peas with Fleur de Sel Recipe
Ingredients
1

pound

sugar snap peas*

1

tablespoon

olive oil,

extra-virgin

Coarse salt

or Fleur de sel**

2

tablespoons fresh

chives,

chopped
Instructions
Preheat broiler. Line a large baking sheet with aluminum foil.

Toss peas with olive oil on prepared baking sheet. Spread peas in a single layer.

Broil approximately 2 minutes or just until crisp-tender and they are beginning to brown in spots, stirring once. Remove from oven and transfer to a serving bowl.

Sprinkle with coarse salt or fleur de sel and chives, and then serve.

Each Serving Totals - 2.7 Fat Grams, 73.3 calories, 1.8 WW Point
Recipe Notes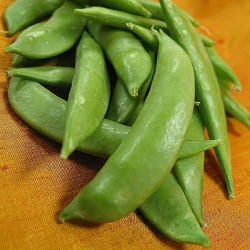 *  Also called Sugar Peas.  These peas are not shelled, as the entire pod is eaten.  They have a crunchy texture and very sweet flavor.
According to the California Department of Public Health, the sugar snap pea is a hybrid of green peas and and snow peas.  It is a relatively new food, having been developed in 1979 to meet consumers' demand for edible pod peas that are sweeter and larger than snow peas.  Because the pods of green peas are difficult to chew, sugar snap pea pods were bred with their fibers going in one direction, making them easier to chew.  Sugar snap peas are high in vitamins and a reliable source of fiber, adding nutrition, color and texture to your meals.
**  Fleur de Sel, Flower of Salt, Flor De Sal - Skimmed from the top of salt ponds early in the process of evaporation, this is considered a great condiment salt; also good on grilled meats, in salads and on vegetables.  The flavor salt, like wines, varies depending on the region it is harvested from.  Typically it is from France though some is produced in Portugal.
Sources:  I slightly adapted this Roasted Sugar Snap Peas with Fleur de Sel recipe from the April 2003 issue of Bon Appetit Magazine.  Recipe by Betty Rosbottom.  Photo from Food.com
Comments and Reviews