Sweet Peas with Prosciutto, also known as Piselli al Prosciutto, is a classic Italian antipasto dish.  The sweet peas in this outstanding dish are braised until just tender and then sauteed with salty prosciutto.  The simplicity of flavors in this recipe is what makes it so satisfying. These Sweet Peas with Prosciutto is a delightful side dish that is particularly excellent with your favorite lamb dish.
Sources:  This recipe and photo are from Saveur Magazine, Issue 128.  Photo by Todd Coleman.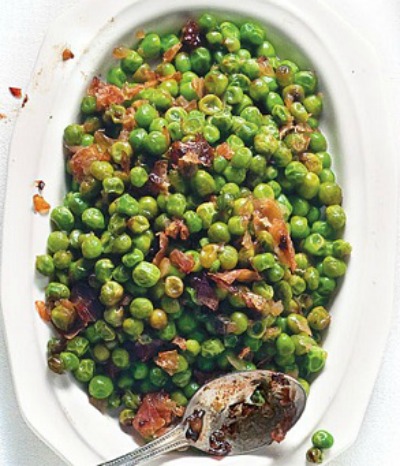 More of Linda's delicious Pea Recipes.
Sweet Peas with Prosciutto Recipe:
Keyword:
Sweet Peas with Prosciutto Recipe
Instructions
In a large frying pan over medium heat, heat olive oil. Add chopped prosciutto and minced onions; cook until onions are soft and prosciutto begins to crisp, approximately 6 to 8 minutes.

Add peas and 1 tablespoon water; cook, tossing until hot, approximately 3 minutes. Season with salt and pepper.

Remove from heat and serve.
Recipe Notes
* Sweet Peas are also know as Garden Peas and English Peas.  Garden peas need to be shelled before cooking and eating.  Fresh peas are available in the springtime as they are a cool-season crop.  Refrigerate fresh peas in their pods in a plastic bag for no more than 2 to 3 days.  Shell just before using.
Other times of the year, purchase frozen peas.  Peas are a popular vegetable that are very nutritious and pleasant to eat.  Never, ever use store-bought canned peas!
Additional Sweet Pea Recipes You Might Also Like:
Green Pea Salad
This is a family favorite that I enjoyed when I was young, and still do today.  It is a very easy-to-make vegetable salad. Great for taking to a potluck or even a picnic.  Your family will love this recipe!
Pea and Radish Salad with Mint
A different salad using in-season vegetables. Loved the crunch!
Stir-Fry Snow Peas with Broccoli and Mushrooms
The spring snow peas are fabulous in late winter!  We have been enjoying them for a few weeks now.
Roasted Sugar Snap Peas
This is another one of those very simple recipes that you wonder why you have not done it sooner!
Comments and Reviews