Categories:
Egg Appetizers
Egg Recipes
Truffle Appetizer Recipes
Truffles/ Truffle Oils
Vegetarian Recipe Index
Deviled Eggs Recipe with Truffles, – the two seem to complement each other quite well.  This appetizer is an easy-to-make gourmet dish that everyone will want to try. This recipe is made with truffle oil and delicate black truffles.  The truffles are shaved paper-thin with a truffle shaver and laid onto the deviled eggs in thin slices.
This recipe is made with truffle oil and delicate black truffles.  The truffles are shaved paper-thin with a truffle shaver and laid onto the deviled eggs in thin slices. Just a tiny amount of truffle shavings can change a common dish into food for royalty.  The ripeness or maturity of the truffle is the key, because the odor only becomes intense when the spores are ready to be released.  To extend these expensive treats, keep in mind that a little truffle goes a long way.  A small amount will give you a lot of flavor and aroma.
Deviled egg recipes are one of the classic appetizers that everyone expects to see on a buffet table at any gathering.  By adding the shaved black truffles you turn a classic appetizer into a gourmet delight.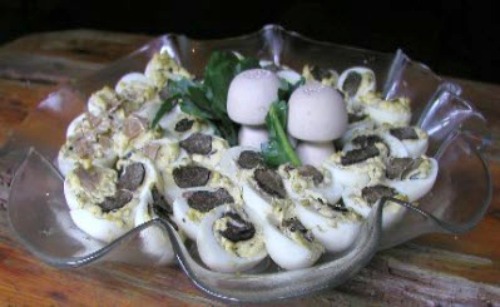 Shop What's Cooking America – Easy on-line shopping for all your quick bread baking needs such as Deviled Egg Platter, Deviled Egg Holder, Wilton Dessert Decorator Plus, Cuisinart 5 /1/2 quart multi-purpose pot, and Linda's favorite Super-Fast Thermapen Thermometer.
Deviled Eggs with Truffles Recipe:
Deviled Eggs Recipe with Truffles Recipe
Ingredients:
8 large eggs, at least a week old*
2 tablespoons good-quality mayonnaise
2 tablespoons sour cream
1/4 teaspoon truffle oil
1/4 teaspoon dry mustard
1 tablespoon finely-chopped fresh dill weed
Salt to taste
Paprika
1 black truffle
* To help center the yolks in the eggs, the night before the eggs are to be cooked (approximately 12 hours), store your eggs on their sides in the refrigerator. Seal the egg carton with a piece of tape and turn on its side to center the yolks. Check out my informative articles on How To Make Perfect Deviled Eggs and How To Boil and Peel Hard-Cooked Eggs.
Instructions:
Place the eggs in a saucepan just large enough to hold them all in one layer. Add water to cover by 1 1/2 inches. Partially cover the pan and bring to a full rolling boil. Cover, reduce heat to low and leave on heat for 30 seconds. Remove from heat and let stand, covered, for 15 minutes. Pour off hot water and rinse eggs under cold running water for 5 minutes. Pour off the water and shake the pans to crack the eggs. Peel under cold running water.
Cut peeled eggs in half lengthwise with a sharp knife. Transfer yolks to a bowl. Cover and chill yolks and whites separately for 1 hour.
In a large bowl, mash the yolks with a fork . Mash in the mayonnaise, sour cream, and truffle oil. Add dry mustard, dill weed, and salt; stir until well blended.
Fill the egg white halves with the yolk mixture, extending the filling over part of the white. Sprinkle each egg half with a little paprika. Cover and refrigerate. Serve well chilled. The stuffed eggs may be made 1 day in advance and kept covered and chilled.
To serve: Slice truffles with a truffle shaver or a sharp thin knife very thinly. You always want to maximize the truffle flavor, using the least amount of the ingredient as possible. So always slice into paper-thin wedges or strips. Use a truffle shaver (similar to a cheese grater) when shaving truffles. Place a truffle slice on each egg half on top of the yolk mixture just before serving.



Makes 16 stuffed eggs.


https://whatscookingamerica.net/Appetizers/DeviledEggsTruffle.htm
Additional Deviled Egg Recipes:
Avocado Deviled Eggs
Deviled Eggs with Goat Cheese, Scallions and Dill
Sriracha Deviled Eggs
Deviled Eggs with Candied Bacon
Stuffed Deviled Lemony Eggs
Uptown Deviled Eggs
Comments and Reviews