Deviled Eggs with Candied Bacon will disappear rapidly from any buffet table or potluck!
Deviled eggs are already an all time favorite appetizer at holiday gatherings and picnics no matter the time of year.  Every Easter, I like to play around with new flavor ideas for deviled eggs.  This past Easter, I decided to prepare deviled eggs with candied bacon loaded on top.  Everyone in the family including men, women and children gobbled up the deviled eggs and gave rave reviews about the candied bacon on top.
I would recommend to make a large batch of candied bacon at home.  Let's be honest – you are going to want to enjoy some candied bacon all by itself!   You just need to make sure that you set aside four to five pieces to break up and sprinkle on top of the deviled eggs.  Hopefully these tasty deviled eggs will even make it to your planned gathering.  You may have to slap some hands back to make sure enough are left!
Learn more about the History of Deviled Eggs and Tips For Making Perfect Deviled Eggs.
Deviled Eggs with Candied Bacon Recipe:
Keyword:
Deviled Eggs with Candied Bacon Recipe
Servings
:
16
deviled eggs
Instructions
Prepare Candied Bacon according to recipe and set aside until ready to use.

Place the eggs in a saucepan just large enough to hold them all in one layer. Add water to cover by 1 1/2 inches. Add 1 tablespoon salt. Partially cover the pan and bring to a full rolling boil. Cover, reduce heat to low and leave on heat for 30 seconds. Remove from heat and let stand, covered, for 15 minutes. Pour off hot water and rinse eggs under cold running water for 5 minutes. Pour off the water and shake the pans to crack the eggs. Peel under cold running water.

Cut peeled eggs in half lengthwise. Transfer yolks to a bowl. Cover and chill yolks and whites separately for 1 hour.

In a large bowl, mash the yolks with a fork. Mash in the mayonnaise and mustard. Add salt to taste; stir until well blended.

Place the egg yolk mixture in plastic seal-able bag. Cut a small corner out of the plastic bag. Squeeze the yolk mixture out of the corner of the bag to fill the egg white halves (this will help the eggs look cleaner) extend the filling over part of the white. Generously sprinkle each half with pieces of candied bacon and a light sprinkling of paprika leaving a little yellow showing around the edges. Cover and refrigerate.

NOTE: The stuffed eggs may be made 1 day in advance and kept covered and chilled.
Recipe Notes
* To help center the yolks in the eggs, the night before the eggs are to be cooked approximately 12 hours, store your eggs on their sides in the refrigerator.  Seal the egg carton with a piece of tape and turn on its side to center the yolks.

More Favorite Deviled Egg Recipes:
Deviled Eggs with Goat Cheese, Scallions and Dill
Stuffed "Deviled" Eggs with Caviar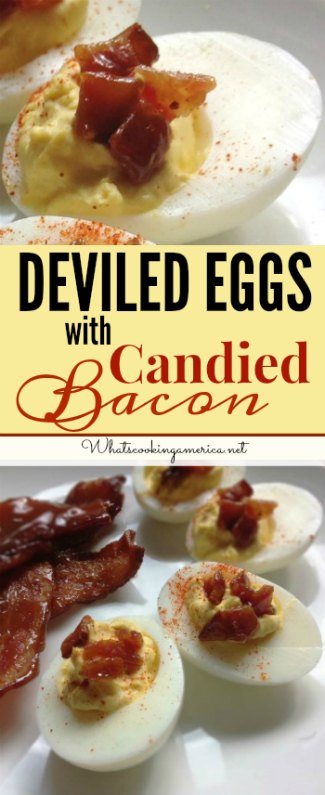 Comments and Reviews