Categories:
Bread
Irish
Quick Bread
Saint Patrick's Day
 Soda Bread – Spotted Dog
Irish Soda Bread can be found in homes and markets all over Ireland.  In the United States, Irish Soda Bread is popular to accompany
Corned Beef and Cabbage
when celebrating Saint Patrick's Day.  No yeast is required in this Soda bread – never has been in real Irish Soda Bread.  Many Irish-American families like to add raisins and caraway seeds to their soda bread which adds a slightly sweet flavor.  This version of soda bread is known as
Soda Bread
or
Spotted Dog
.
More delicious Irish recipes to inspire you – check out Corned Beef and Cabbage, Guinness Beef Stew – Irish Beef Stew, and Corned Beef Bubble and Squeak.
Check out all of Linda's great Bread Recipes for your bread making and more great Cast-Iron Cooking Recipes.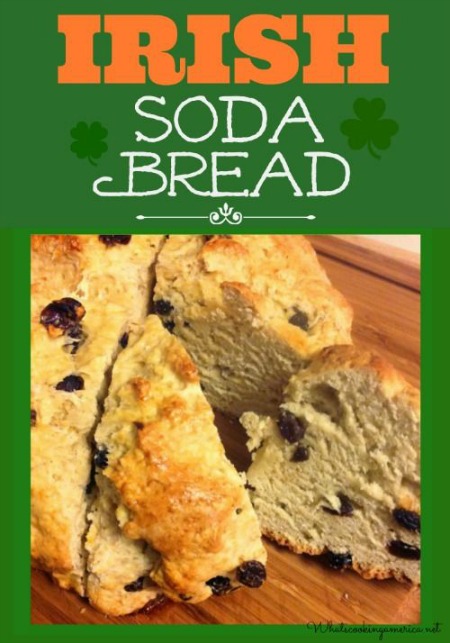 History of Irish Soda Bread:
Irish soda bread has been a staple of the Irish diet for the past two centuries.  Before the Irish learned about soda bread, it was actually the American Indians who taught early American settlers to use soda ash as a leavener for baking bread.  The Irish farmers learned about soda bread in the 1840's when bicarbonate of soda was first introduced to Ireland. Irish soda bread rises from the reaction of the acid of sour milk mixing with the baking soda.  Using baking soda and buying sour milk cheap from local creameries provided homemakers with a quick and inexpensive way to make bread for their families.  Today, buttermilk has replaced the use of sour milk and it is more easily found in markets.
The bread dough for Irish soda bread is shaped into a round loaf, then a cross is cut across the top with a knife.  Legend has it that Irish households made this cross in the bread as a superstition to keep the devil away and protect their families.  The cross cut across the top also helps the bread expand while baking.  Since many poor Irish farmers only had open hearths instead of ovens for baking, they had to bake their bread on a griddle or in cast iron dutch oven called a "bastible" over an open fire.  This resulted in a bread with a tender yet dense cake-like texture on the inside and a hard crust on the outside.
Irish Soda bread is more popular in Southern Ireland.  In Northern Ireland, they make a similar bread called Farl or griddle cakes.  With Farl, the dough is shaped into a flattened round loaf, then cut into 4 separate quarters.  Each quarter is cooked on the griddle.
1817 – The editor of The Gentleman's Magazine published in London was challenged to come up with a better way of making bread with poor wheat.  He experimented until he found a way without using leaven.  He used wheat flour, mealy potatoes, salt, water, soda, and muriatic acid and then baked the loaf before a fire.
1824 – The Virginia Housewife, by Mary Randolph, published a recipe for soda cake:
"Dissolve half a pound of sugar in a pint of milk; add a teaspoon of soda, pour it on two pounds of flour –melt half a pound of butter.  Knead all together until light.  Pour it in shallow molds and bake it quickly in a quick oven."
1840 – Bicarbonate of soda was first introduced to Ireland providing a quick and inexpensive leavening agent for bread.
Shop What's Cooking America – Easy on-line shopping for all your quick bread baking needs such as bread pans, cast-iron pans and skillets, wire cooling racks, plastic bowl scrapers, silicone baking mats, plastic bread bags, and Linda's favorite Super-Fast Thermapen Thermometer.
Irish Soda Bread Recipe:
Ingredients:
3 cups all-purpose flour
1/2 teaspoon baking soda
2 tablespoons granulated sugar
1/2 teaspoon salt
2 tablespoons butter, softened
2 eggs, beaten (crack one of the eggs in a separate cup and beat)
1 cup buttermilk*
1/2 cup raisins
* Learn how to make a Buttermilk Substitution.
Instructions:
Preheat oven to 350F. Place rack in middle of oven.
Lightly grease a 9-inch cast iron skillet, a 9-inch cake pan, or a baking sheet.
In a large mixing bowl, combine the flour, baking soda, sugar, and salt. Add the butter and cut into the flour mixture with a with a pastry blender or two knives crossing against each other (or you can use your fingers) to mix in the butter until the flour mixture is crumbly in texture.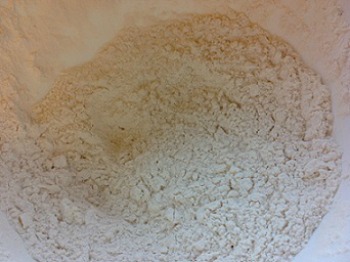 In a small bowl, combine 1 beaten egg, buttermilk, and raisins, set aside.
Make a well in the center of the flour mixture. Pour the egg mixture into the well. Stir everything together until all the dry ingredients are absorbed.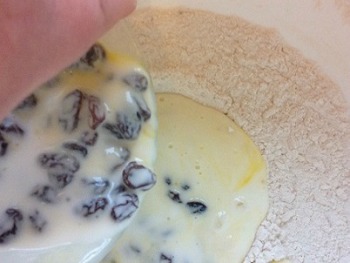 Turn the dough out onto a lightly-floured surface and gently knead the dough for about 10 to 12 turns until the texture is more elastic and not sticky. You do not want to over handle the dough or it will become tough.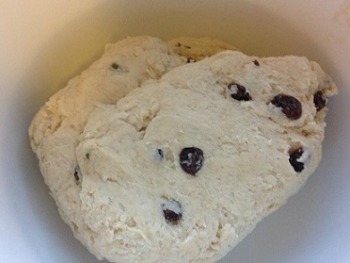 Shape the dough into a round loaf about 6 inches in diameter and place into either cast iron skillet, cake pan, or on a baking sheet. With a sharp knife cut a cross or an "X" on the top surface of the bread loaf (about 1/4-inch deep). Brush the top of the bread with the remaining beaten egg (this will add a nice shiny golden crust).
Place the bread on the middle rack of the oven and bake for 40 to 45 minutes or until the edges are golden brown. A good check is to use an instant digital thermometer to test your bread. The internal temperature of the bread should be at 200 degrees F. when done.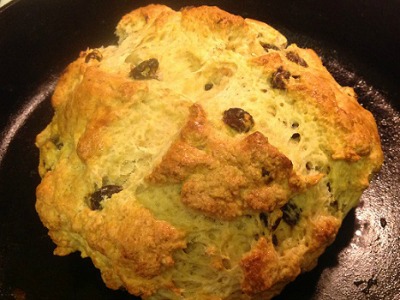 This is the type of cooking and meat thermometer that I prefer and use in my cooking. I get many readers asking what cooking/meat thermometer that I prefer and use in my cooking and baking. I, personally, use the Thermapen Thermometer shown in the photo on the right. Originally designed for professional users, the Super-Fast Thermapen Thermometer is used by chefs all over the world.
Remove from oven and cool on wire rack for 10 minutes. Slice into wedges and enjoy spread with butter.
Excellent accompaniment to Corned Beef and Cabbage or Guinness Beef Stew - Irish Beef Stew.
Irish soda bread can be wrapped in plastic wrap and stored at room temperature for up to 2 days.
Makes 1 loaf (4 to 6 servings).
https://whatscookingamerica.net/Bread/Irish-Soda-Bread.htm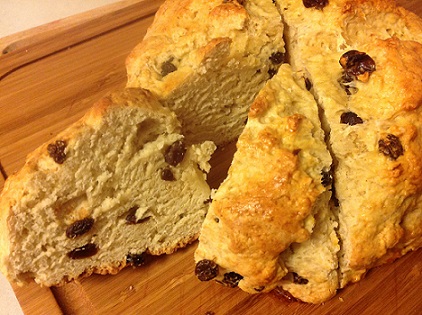 Additional St. Patrick's Day Recipes:

Corned Beef and Cabbage
My family and I look forward to enjoying corned beef and cabbage dinner as part of celebrating Saint Patrick's Day every year. This is a great no-fuss meal to serve on Saint Patrick's Day or any day that you desire.

Corned Beef Bubble and Squeak

Bubble and Squeak is a traditional Monday lunch in England to take the leftover potatoes and vegetables from Sunday supper and fry it up to enjoy for lunch the next day. The odd name is said to come from the noises made while cooking it.
Guinness Beef Stew – Irish Beef Stew
Most every pub you visit in Ireland will offer Beef and Guinness Stew on the menu. Stewing the beef in Guinness stout beer tenderizes the beef and adds a robust, malty flavor to the stew.
Corned Beef and Cabbage
My family and I look forward to enjoying corned beef and cabbage dinner as part of celebrating Saint Patrick's Day every year. This is a great no-fuss meal to serve on Saint Patrick's Day or any day that you desire.
Chocolate Guinness Cake
Chocolate Guinness Cake is a wonderfully dense and moist chocolate cake that is not overly sweet yet the chocolate flavor is still rich with a hint of malt. This is great dessert idea to celebrate Saint Patrick's Day or enjoy any time of the year.
Sources:
Abigail's Bakery, LLC, History of Irish Soda Bread,Wear, NH.
Kitchen Project, Food History, The History of Irish Soda Bread.
Ulster Fry Recipe, Channel 4 Television.
Society for the Preservation of Irish Soda Bread, Irish Soda Bread History.
Comments and Reviews