Muffuletta Bread is used in making New Orleans' famous signature sandwich called the Muffuletta Sandwich.  These sandwiches can be found all over New Orleans from delis to pool halls and the corner grocery stores.  This Muffuletta Bread is a also a great bread to use sliced for all your favorite sandwiches.
Learn about the History of Muffuletta Sandwiches.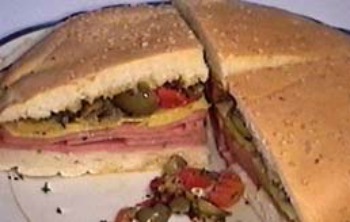 Check out Linda's Bread Making Hints: Secrets to using the bread machine, About yeast in bread making, Sourdough Starter, and Quick Breads.
More great Bread Recipes, Sourdough Bread Recipes and Quick Bread Recipes for all your bread making.
Muffuletta Bread Recipe:
Ingredients:
1 cup lukewarm water
2 tablespoons extra-virgin olive oil
1 tablespoon granulated sugar
1 1/2 teaspoons salt
3 cups bread flour or all-purpose flour
3 teaspoons instant active dry yeast
Cornmeal
Sesame seeds
Olive oil
Instructions:
Different bread making techniques:
After resting, turn dough bottom side up and press to flatten. Form dough into a one-inch high circle and place on a baking sheet dusted with cornmeal. Press sesame seeds into surface of dough and brush with olive oil. Cover with plastic wrap and let rise in a warm place 30 to 50 minutes or until doubled in size.
Preheat oven to 425 degrees F. After rising, bake for 10 minutes. Reduce heat to 375 degrees F. and bake 15 minutes or until loaf sounds hollow when tapped. A good check is to use an instant digital thermometer to test your bread. The internal temperature should be between 200 and 210 degrees.

This is the type of cooking and meat thermometer that I prefer and use in my cooking. I get many readers asking what cooking/meat thermometer that I prefer and use in my cooking and baking. I, personally, use the Thermapen Thermometer shown in the photo on the right. To learn more about this excellent thermometer and to also purchase one (if you desire), just click on the underlined: Thermapen Thermometer.
Remove from oven and cool on a wire rack before slicing.
Makes 1 loaf.
https://whatscookingamerica.net/Bread/MuffulettaBread.htm
Comments and Reviews