Mediterranean Layer Dip is a delightful and versatile dip or spread that is full of fresh flavors and also is a joy to serve and can be prepared easily.  The dip has fresh colors, interesting flavor combinations, and can be used in many different ways.  Using this spread on a sandwich is also excellent.  It is a colorful and very tasty appetizer that always gets compliments.  This addictive dip is perfect for a party of football fans.  It will be a hit at your Super Bowl party!
This delicious dip recipe and photos were shared with me by Karen Calanchini, Food Stylist and Photographer, of Redding, CA.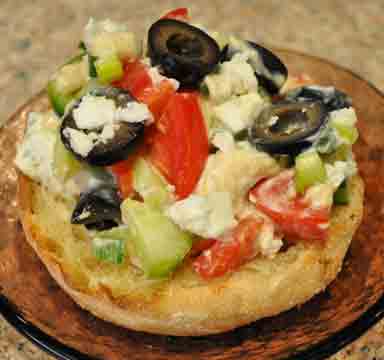 Mediterranean Layer Dip with Tortilla Bread Recipe:
Mediterranean Layer Dip with Crispy Tortilla Bread Recipe
Ingredients:
Tortilla Bread Crisps (see recipe below)
1 (8-ounce) package low fat cream cheese, room temperature
2 tablespoons finely-chopped red onion
2 tablespoons finely-chopped fresh chives
1 (8-ounce) container prepared roasted Garlic Hummus
1/2 English cucumber, peeled and chopped into small chunks
3 medium plum tomatoes, chopped
1/4 cup pitted Kalamata olives, chopped
1/4 to 1/2 cup Israeli Feta cheese*
1/4 cup chopped green onions
* Israeli feta cheese is a full-flavored sheep's milk feta. You may substitute your favorite feta cheese.
Instructions:
Prepare the Tortilla Bread Crisps.
While the Tortilla Bread Crisps are in the oven, prepare the Mediterranean Layer Dip. In a bowl, mix together the cream cheese, onion, and chives; spread mixture onto the bottom of a 9-inch plate.
Spread the Garlic Hummus over the top of the cream cheese mixture. Layer the cucumber, tomatoes, olives, feta cheese, and green onions over the top.
Serve with the Bread Crisps.
Variation Idea: For a nice breakfast or lunch treat, serve the Mediterranean Layer Dip on warm, toasted English muffins. Serves many.

Tortilla Bread Crisps:
Tortilla Bread has the hand-held convenience of a tortilla, combined with the rich, buttery flavor and texture of bread. It is a great way to add a new twist to your favorite dips and spreads.
1 package Tortilla Bread
Cooking spray
Garlic or onion powder
Preheat oven to 350 degrees F. Lightly spray a baking sheet with non-stick cooking spray.
Cut each Tortilla Bread in half and then into 6 or 8 wedges. Place the tortilla bread wedges on a baking sheet and lightly spray with cooking spray and then sprinkle with your choice of either garlic or onion powder.
Bake approximately 7 minutes or until the bottoms are a nice golden brown and the tops have crisped.
NOTE: If you can not find Tortilla Bread, use Pita Pocket Bread. Split each pita bread into 2 rounds and proceed with the above methods. You will need to adjust the cooking time, as the pita is thinner.
https://whatscookingamerica.net/KarenCalanchini/MediterraneanLayerDip.htm
Comments and Reviews