Pasta with Turkey Pepperoni recipe is a snap to make If you have some homemade frozen tomato sauce in your freezer.  If not, use either homemade or a good brand of Marinara Sauce.
This pasta dish has the taste of a delicious pizza – but it is pasta.  This recipe is great for kids on the run or tired moms!  Serve with a fresh green salad and some crusty bread.
This very easy-to-make and delicious Pasta with Turkey Pepperoni recipe, comments, and photo were shared with me by Karen Calanchini, Food Stylist and Photographer, of Redding, CA.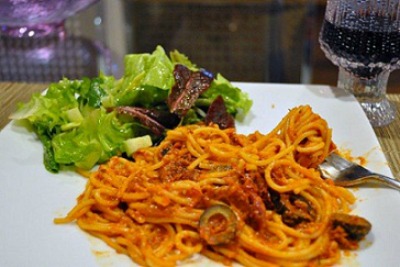 Pasta Hints and Tips and more delicious Pasta Recipes.
Pasta with Turkey Pepperoni Recipe
Pasta with Turkey Pepperoni Recipe
Ingredients:
8 ounces spaghettini pasta (also known as thin spaghetti pasta)
1 1/4 cups homemade tomato sauce or marinara sauce*
1/4 cup sun-dried tomatoes in olive oil
25 low-fat turkey pepperoni slices, quartered
3/4 cup sliced black or green olives
1/2 cup shredded Parmigiano Reggiano cheese
1/2 cup shredded mozzarella cheese
1/2 cup fresh basil leaves, chopped
Salt and freshly-ground pepper to taste
* Learn how easy it is to make homemade Marinara Sauce.
Instructions:
Cook pasta according to package directions; drain and return to pan to keep warm. Learn How To Cook Pasta Properly.
In a large heavy saucepan over medium heat, add tomato sauce or marinara, sun-dried tomatoes, turkey pepperoni slices, Parmigiano cheese, and mozzarella cheese. Heat, stirring, until the mixture is well combined and hot.
Add the cooked pasta and cook an additional couple of minutes, tossing with tongs.
Add fresh basil leaves, salt, and pepper to taste; toss and serve.
Makes 4 servings.
https://whatscookingamerica.net/KarenCalanchini/PastaTurkeyPepperoni.htm
Comments and Reviews