Homemade Spaghetti Sauce is a good staple to learn to make.  Once you know the basic ingredients and preparation, you can make this sauce from memory.
Of course, I always alter the recipe each time I prepare it, depending on the ingredients I have on hand and how much time I have.  The best flavors in spaghetti sauce are garlic and wine – in my humble opinion.  Do not forget to serve over pasta with some delicious garlic-butter bread!
Learn how to make homemade Oven-Roasted Canned Tomato Sauce, Oven-Roasted Fresh Tomato Sauce, Simple Basic Tomato Sauce, Marinara Sauce, and Arrabbiata Sauce.
Check out Linda's Butters, Condiments, Sauces, Relish and Jelly Recipes for more great ideas.
Homemade Spaghetti Sauce Recipe:
Homemade Spaghetti Sauce Recipe
Ingredients:
2 (14.5-ounce) cans crushed or diced tomatoes, undrained
1 medium onion, diced
2 to 3 cloves garlic, minced
1 pound lean ground beef (hamburger)*
1 pound mild Italian ground sausage
1 (6-ounce) can tomato paste
1 cup water
1/2 cup red wine
1 1/2 teaspoons dried oregano
1 1/2 teaspoons dried basil
1 1/2 teaspoons dried rosemary
1 tablespoon granulated sugar
1/4 teaspoon dried red pepper flakes
Coarse salt and freshly-ground black pepper to taste
1 cup freshly-grated Parmesan Cheese (Parmigiano-Reggiano)
Instructions:
In a blender, mix together the crushed or diced tomatoes until pureed; set aside.
In a large frying pan over medium-high heat, add the onion, garlic, ground beef, and Italian sausage. Cook and stir until the meat is browned and the onions are softened. Remove from heat and drain the fat from the pan; discard the fat.



Stove Top Method: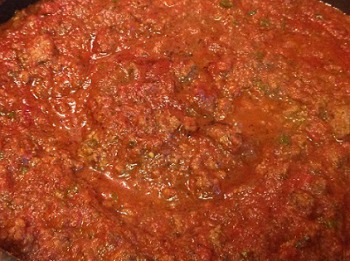 Return the pan to the heat and add the tomato puree mixture, tomato paste, water, red wine, oregano, basil, rosemary, sugar, pepper flakes, salt and pepper.
Heat just to boiling, reduce heat to medium-low and let simmer approximately 30 minutes, stirring occasionally, until the liquid has reduced to your liking.
Slow Cooker (Crock Pot) Method:
Preheat Slow Cooker. Add the cooked beef mixture to the slow cooker along with the tomato puree mixture, tomato paste, water, red wine, oregano, basil, rosemary, sugar, pepper flakes, salt, and pepper. Stir everything together to combine and cover with slow cooker lid.
Cook on low heat approximately 8 to 10 hour or on high heat for approximately 4 to 5 hours.
When done to your liking, remove from heat and serve over a plate of cooked spaghetti pasta. Learn How To Cook Pasta Properly. Sprinkle with Parmesan cheese and serve.
Makes 6 servings.
https://whatscookingamerica.net/Sauces_Condiments/Spaghetti-Sauce.htm
Comments and Reviews