Tomato-Basil Crab Bisque is so good.  This is one of the best crab bisques that I have tasted and the chunks of crab meat make a delicious garnish.  This soup is a very rich tomato cream soup with the basil and crab.  Tomato-Basil Crab Bisque makes a great dinner party soup recipe to impress your friends and family!

What is a Bisque?  A bisque is a thick, creamy soup that traditionally is made from puréed shell fish. There are several legends as to how it got its name, but most likely it comes from the French words "bis cuites" meaning twice cooked.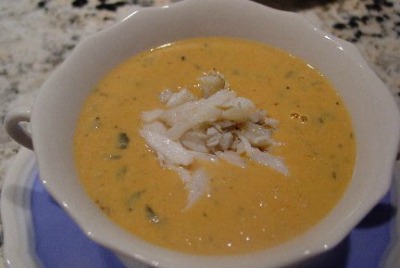 Please check out my seven-course Butter-Poached Lobster Tails dinner menu which includes this fabulous Tomato-Basil Crab Bisque.

Tomato-Basil Crab Bisque Recipe:
Tomato-Basil Crab Bisque Recipe
Ingredients:
2 tablespoons unsalted butter
10 ounces fresh or canned crabmeat, divided*
1 tomato, peeled, seeded and chopped (about 1/2 cup)**
1/3 cup plus 3 tablespoons chopped fresh basil leaves
2 cloves garlic, minced
1/2 cup all-purpose flour
1 3/4 cups clam juice
1 (5.5-ounce) can V8 vegetable juice
1 cup whipping or heavy cream
1 to 2 teaspoons old bay seasoning
1/4 teaspoon hot pepper sauce
3/4 cup water
2 tablespoons freshly-squeezed lemon juice
Salt and pepper to taste
* I used the Premium canned backfin crab meat from Costco.
** Learn How To Peel Fresh Tomatoes.
Instructions:
In a large heavy soup pot over low heat, melt butter. NOTE: I like to use low heat when making this soup, as it gives me more control.
Add 3/4 of the crab meat, chopped tomato, 1/3 cup chopped fresh basil, and garlic; saute 2 minutes.
Whisk in flour and stir for 2 minutes. Whisk in clam juice, V8 vegetable juice, whipping cream, Old Bay seasoning, and hot pepper sauce. Simmer over low heat until slightly thickened, approximately 10 to 15 minutes. Remove from heat and let soup cool slightly.
Puree soup in batches in a food processor or blender until smooth.
Return pureed soup to the pot pot. Stir in water and lemon juice. Season to taste with salt and pepper.
NOTE: Can be made 1 day ahead. Chill uncovered until cold, then cover and keep refrigerated.
Bring to a simmer before serving.
To serve, divide soup among 6 individual soup bowls. Sprinkle with remaining crabmeat and 3 tablespoons basil.
Makes 6 first-course servings.
https://whatscookingamerica.net/Soup/TomatoCrabBisque.htm
Sources:  This photo was generously shared with me by Judy Castranova or New Bern, North Carolina, and her web site called Crab Recipes.  I adapted this recipe from one that was published in the August 2003 Bon Appetit Magazine.  Recipe originally from the Spartina Grill, Hilton Head Island, SC.
Comments and Reviews