If you are a lover of avocado then you will really enjoy this twist of Avocado Deviled Eggs.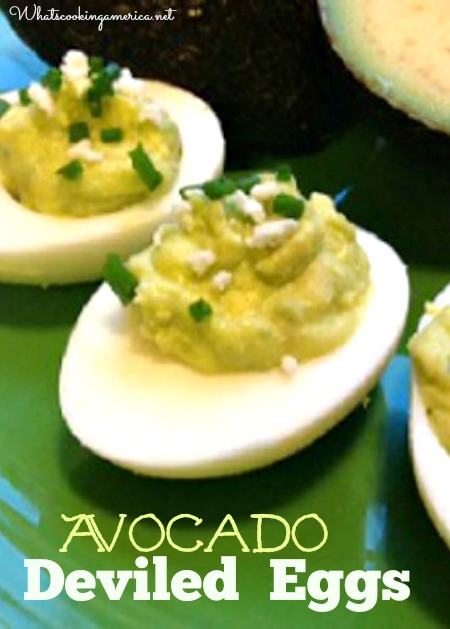 The creamy and smooth texture of the avocado provides a wonderful compliment when mixed with the egg yolk.  Deviled eggs have been a staple of many family gatherings and party potlucks.  Changing up your classic deviled eggs by adding new ingredients such as avocado, will tickle everyone's taste buds and start the conversation rolling.  The green coloring is a fun addition to theme parties, such as St. Patrick's Day or a Dr. Seuss theme.
My daughter loves to prepare these avocado deviled eggs and serve alongside classic deviled eggs and Sriracha deviled eggs for a brunch or holiday dinner.  Be prepared to share this recipe, bring a copy or share our web site with your friends.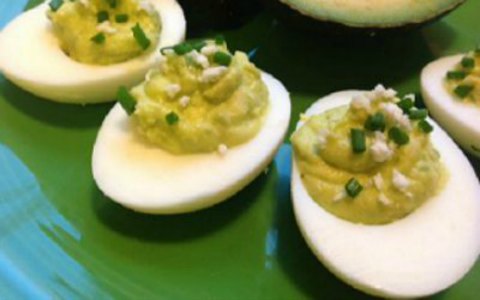 Avocado Deviled Eggs Recipe:
Keyword:
Avocado Deviled Eggs Recipe
Servings
:
16
stuffed eggs
Ingredients
8

large

eggs,

at least a week old*

2

tablespoons

mayonnaise,

top-quality

1

ripe

avocado,

pitted and skinned**

1

teaspoon

lemon juice,

freshly squeezed

1/2

teaspoon

ground mustard

Salt

to taste

1/4

cup

chives,

minced

1/4

cup

corolla cheese,

crumbled
Instructions
* To help center the yolks in the eggs, the night before the eggs are to be cooked (approximately 12 hours), store your eggs on their sides in the refrigerator. Seal the egg carton with a piece of tape and turn on its side to center the yolks.

**Time saving option- Prepared guacamole can be substituted for fresh avocado.

Place the eggs in a saucepan just large enough to hold them all in one layer. Add water to cover by 1 1/2 inches. Add 1 tablespoon salt. Partially cover the pan and bring to a full rolling boil. Cover, reduce heat to low and leave on heat for 30 seconds. Remove from heat and let stand, covered, for 15 minutes. Pour off hot water and rinse eggs under cold running water for 5 minutes. Pour off the water and shake the pans to crack the eggs. Peel under cold running water.

Cut peeled eggs in half lengthwise. Transfer yolks to a bowl. C over and chill yolks and whites separately for 1 hour.

In a large bowl, mash the yolks with a fork and set aside.

In a separate bowl mash the avocado into a paste like texture (lumps are ok), then stir in the lemon juice. Combine the mashed egg yolk and avocado together. Mash in the mayonnaise and ground mustard; stir until well blended. Salt to taste. If needed add a little more mayonnaise to add more moisture to mixture.

Place the egg yolk mixture in plastic sealable bag. Cut a small corner out of the plastic bag. Squeeze the yolk mixture out of the corner of the bag to fill the egg white halves. This will help the eggs look cleaner. Cover and refrigerate.

When ready to serve, garnish the tops of each deviled eggs with minced chives and finely crumbled cotilla cheese.

NOTE: The stuffed eggs may be made 1 day in advance and kept covered and chilled.
Additional Deviled Egg recipes:
Deviled Eggs with Goat Cheese, Scallions and Dill
Deviled Eggs with Truffles
Sriracha Deviled Eggs
Deviled Eggs with Candied Bacon
Stuffed "Deviled" Eggs with Caviar
Stuffed "Deviled" Lemony Eggs
Uptown Deviled Eggs
Comments and Reviews