Fondue is not just a special treat at a restaurant; it is an appetizer you can easily make at home.  This Baked Fontina Fondue is so easy-to-make and is simply delicious.  This version of fondue does not require a special fondue pot, and a watchful eye stirring it.  Instead it is a fondue that is baked in a heavy skillet in the oven.  First choice of skillet would be a cast iron one.  Besides being an ideal heat conductor, cast iron cookware heats evenly and consistently, it is inexpensive and will last a lifetime (actually several lifetimes) with proper care.
When you make this Fontina Fondue at home, serve it family-style (right out of the oven in the cast-iron pan).  Put out a variety of bread, crackers or some fresh vegetables to dip into the fondue.  Everyone will have fun with the community treat.  My family is a huge fan of this appetizer and we make it many times over.  I suggest you give it a try!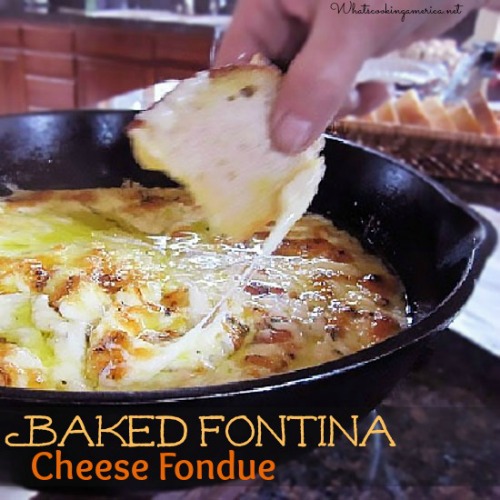 Baked Fontina Cheese Fondue Recipe:
Keyword:
Baked Fontina Cheese Fondue Recipe
Servings
:
4
to 6 servings
Ingredients
1 1/2

pounds

Italian Fontina cheese,

rind removed and 1-inch dice*

1/4

cup

olive oil,

extra-virgin

6

cloves

garlic,

thinly sliced

1

tablespoon

thyme

leaves, fresh, minced

1

teaspoon

rosemary

leaves,fresh, minced

1

teaspoon

coarse salt

(sea salt or kosher salt)

1

teaspoon

black pepper,

freshly-ground

1

baguette

bread

(French or sourdough bread), sliced into 1/4-inch slices
Instructions
Preheat your oven broiler and position the oven rack 5 inches from the heat source.

Distribute the cubes of Fontina cheese evenly in a 12-inch cast-iron pan. Drizzle the olive oil over the top of the cheese.

In a small bowl, combine the garlic slices, minced thyme, and minced rosemary; sprinkle the mixture over the top of the cheese and olive oil. Sprinkle with salt and pepper.

Place the pan under the broiler for 6 minutes, or until the cheese is melted and bubbling, and just starts to brown. Remove from oven.

Tip: Do not heat the cheese beyond its melting point as cheese tends to ball up at higher temperatures. Also do not let the cheese cool down too much before serving, as it tends to get stringier and tougher as it cools.

Serve the Fontina Fondue family-style (right out of the oven in the cast-iron pan) with baguette bread slices for everyone to dip. You may have to reheat the fondue on low occasionally to keep it melted and smooth.

For individual servings, divide the fondue among four 6-inch cast-iron pans.
Recipe Notes
*  Purchase Italian Fontina cheese - not Danish as it is not as creamy and won't melt as well.
Source:  I slightly adapted this recipe from the cookbook, "The Red Cat Cookbook: 125 Recipes from New York City's Favorite Neighborhood Restaurant" by Jimmy Bradley and Andrew Freeman.
Comments and Reviews